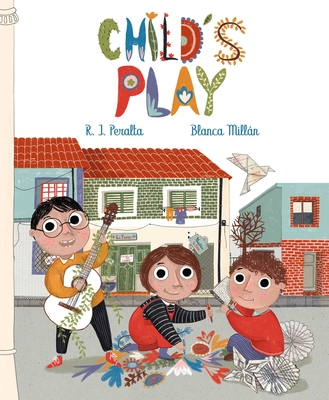 Child's Play
Hardcover

* Individual store prices may vary.
Description
A poignant story about how children's play and creativity help children overcome the hardship of moving and changing country and heal one's soul.
Danny, Molly and Marcus are three sparkling creative siblings, although each one expresses himself differently. Danny likes music and by singing and playing the guitar he can give voice to his feelings. Mercedes would always be found with a brush in hand, drawing out her emotions. What about Marcus? You see, Marcus is a great writer--he writes down all his thoughts and he can explore his deepest sorrows.
One thing that the three very special siblings love is playing together and inventing a thousand different games, but there is something that worries them --soon they will move to a new, safer house in another country. Seeing their parents so sad and watching their house being reduced to boxes breaks their soul. However, they will discover that if they stick together, they will always have a loving home.
Cuento de Luz SL, 9788416733767, 28pp.
Publication Date: May 1, 2020
About the Author
Ramiro Peralta was born in Buenos Aires in 1988. For 20 years, he has lived in Galicia, his second home. He majored in Psychology at the University of Santiago de Compostela, although from a very young age he was drawn towards literature. He has been writing for as long as he can remember but he truly considered publishing his books after being awarded several short story contests as a high school student. His publishing career began in 2017 with the publication of Manuela (Bolanda, 2017), a work written in Galician. His other works in Galician are Monstro de ollos vermellos (Editorial Galaxia, 2018) and Acouga, Babau (Editorial Galaxia, 2020). His most outstanding book is Child's Play (Cuento de Luz, 2019), awarded at the 2020 International Latino Books Awards, which received several recognitions in the United States.