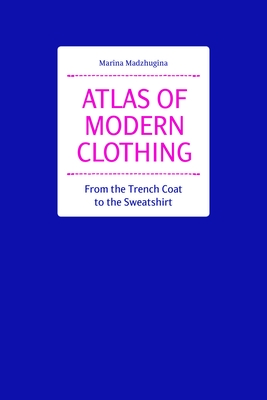 Atlas of Modern Clothing
From the Trench Coat to the Sweatshirt
Hardcover

* Individual store prices may vary.
Description
A handbook for clothing designers, stylists and fashionistas, this dashing publication uses beautiful illustrations and drawings to highlight the design and key details of various forms of contemporary clothing, such as coats, jackets, shirts, tops, blouses, dresses, trousers, shorts and skirts. Traditional and contemporary materials, colors and textures for different styles are also listed. This atlas will help designers in their work, no matter which creative method of costume design they choose: inversion, analogy, empathy, fantasy, creating new combinations and problem-solving. It is meant to be a source of inspiration and a useful tool for artists and designers working with clothing, and will be of interest to anyone who is passionate about fashion and style.
Hoaki, 9788417656607, 276pp.
Publication Date: July 18, 2022
About the Author
Marina Madzhugina graduated from the Institute of Design and Technology at Omsk State Technical University (Russia) with a degree in costume design. She has worked at her alma mater since 2013, teaching students who want to become stylists and image-makers. She is the winner of the Fashion Formula Competition (Omsk), the Local Style Competition for Young Fashion Designers (Voronezh) and the Russian Silhouette Contest (Sochi, Moscow). Over her career, she has developed a unique method to compile a basic assortment of clothing, which became the basis for this atlas.