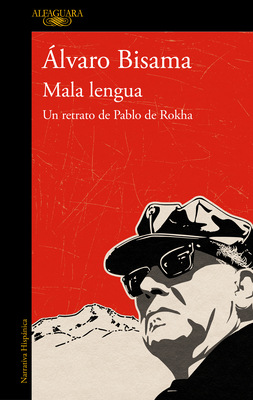 Mala lengua / Bad Language
Un retrato de Pablo de Rokha / A Portrait of Pablo de Rokha (MAPA DE LAS LENGUAS)
Paperback

* Individual store prices may vary.
Description
Una magistral crónica que retrata al poeta Pablo de Rokha, una de las figuras más combativas de la literatura, por uno de los autores chilenos más importantes hoy.

Deslenguado, siempre polémico, Pablo de Rokha atravesó buena parte del siglo ganando amigos y detractores, escribiendo una obra inmensa y fundamental, muchas veces desconocida, mientras la de sus compañeros de generación —entre ellos Mistral, Neruda y Huidobro— comenzaba a hacerse conocida para el mundo. La suya es una historia llena de piezas extraviadas que Álvaro Bisama reconstruye de forma admirable. Cómo fue armándose su clan y familia, la fulminante historia de amor con Winétt, su soledad como escritor, el relato de sí mismo que construyó en su obra, las muertes trágicas que enlutaron sus días, entre otras circunstancias, dibujan aquí no solo la vida del poeta, sino también un momento histórico que vio nacer a los grandes genios de la poesía chilena.

ENGLISH DESCRIPTION

A masterful chronicle that portrays the poet Pablo de Rokha, one of the most combative figures in literature, by one of the most important Chilean authors today.
 
Foul-mouthed, always controversial, Pablo de Rokha spent much of the century winning friends and detractors, writing an immense and fundamental work, much of it unknown, while that of his contemporaries - among them Mistral, Neruda and Huidobro - began to become known to the world. His is a story full of lost pieces that Álvaro Bisama rebuilds admirably. How his clan and family were assembling, the sudden love story with Winétt, his loneliness as a writer, the story of himself that he built in his work, the tragic deaths that he mourned, among other circumstances, paint not only the life of the poet, but also a historical moment that saw the birth of the great geniuses of Chilean poetry.

Alfaguara, 9788420456522, 272pp.
Publication Date: July 20, 2021
About the Author
ÁLVARO BISAMA ha publicado las novelas Caja negra, Música marciana, Estrellas muertas (Premio Municipal de Literatura), Ruido (Premio a la Mejor Obra Literaria), Taxidermia, El brujo y Laguna.