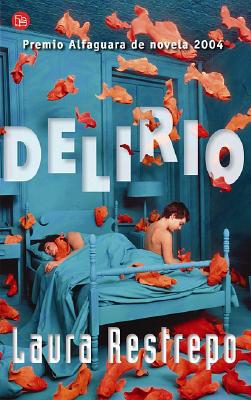 Delirio / Delirium
Paperback

* Individual store prices may vary.
Other Editions of This Title:
Paperback, Spanish (11/20/2018)
Paperback (3/11/2008)
Paperback (4/1/2004)
Paperback (9/1/2010)
Paperback (7/1/2008)
Hardcover (4/3/2007)
Description
La novela por la que Laura Restrepo fue galardonada con el Premio Alfaguara de novela 2004.

«Todos los secretos están guardados en un mismo cajón, el cajón de los secretos, y si desvelas uno, corres el riesgo de que pase lo mismo con los demás.»
 
Un hombre regresa a casa después de un corto viaje de negocios y encuentra que su esposa ha enloquecido completamente. No tiene idea de qué le ha podido ocurrir durante los tres días de su ausencia, y con el fin de ayudarla a salir de la crisis empieza a investigar, solo para descubrir lo poco que sabe sobre las profundas perturbaciones escondidas en el pasado de la mujer que ama.
Narrada con talento y emoción, la historia principal de esta novela se fragmenta en otras que se anudan a través de personajes llenos de matices. Laura Restrepo muestra en esta obra una energía narrativa fuera de lo común, en donde el suspense se mantiene hasta un final esperanzador que cierra una hermosa novela, bien construida, mejor controlada y brillantemente desarrollada.

José Saramago, presidente del jurado que entregó el Premio Alfaguara de Novela a Laura Restrepo, dijo...
 

«Delirio es una expresión de todo lo que Colombia tiene de fascinante, e incluso de terriblemente fascinante. Y cuando el nivel de la escritura llega hasta donde lo llevó Laura Restrepo, hay que quitarse el sombrero. Lo digo en mi nombre y en el nombre del jurado que no ha ahorrado aplausos para esta obra.»

ENGLISH DESCRIPTION


In this remarkably nuanced novel, both a gripping detective story and a passionate, devastating tale of eros and insanity in Colombia, internationally acclaimed author Laura Restrepo delves into the minds of four characters. There's Agustina, a beautiful woman from an upper-class family who is caught in the throes of madness; her husband Aguilar, a man passionately in love with his wife and determined to rescue her from insanity; Agustina's former lover Midas, a drug-trafficker and money-launderer; and Nicolás, Agustina's grandfather. Through the blend of these distinct voices, Restrepo creates a searing portrait of a society battered by war and corruption, as well as an intimate look at the daily lives of people struggling to stay sane in an unstable reality. 
Punto de Lectura, 9788466308540, 303pp.
Publication Date: April 1, 2007
About the Author
Laura Restrepo (Bogotá, 1950) en 1986 publicó su primer libro, Historia de un entusiasmo (Aguilar, 2005), al que le siguieron La I sla de la Pasión (1989; Alfaguara, 2005), Leopardo al sol (1993; Alfaguara, 2005), Dulce compañía (1995; Alfaguara, 2005), La novi a oscura (1999; Alfaguara; 2005), La multitud errante (2001), Olor a rosas invisibles (2002; Alfaguara, 2008) y Delirio (Premio Al faguara 2004). Sus novelas han sido traducidas a más de veinte idiomas y han merecido varias distinciones, entre las que se cuenta n el Premio Sor Juana Inés de la Cruz de novela escrita por mujeres; el Premio Alfaguara de Novela 2004; el Prix France Culture, p remio de la crítica francesa a la mejor novela extranjera publicada en Francia en 1998; el Premio Arzobispo Juan de Sanclemente 20 03, y el premio Grinzane Cavour 2006 a la mejor novela extranjera publicada en Italia. En la actualidad escribe para el diario El País de España y es profesora de la Universidad de Cornell en Estados Unidos.
or
Not Currently Available for Direct Purchase