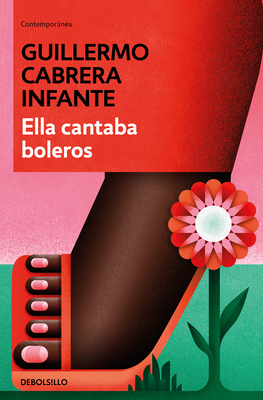 Ella cantaba boleros / She Sang Boleros
Paperback

* Individual store prices may vary.
Description
Dos narraciones procedentes de las principales novelas de Cabrera Infante, publicadas por el autor en un único volumen.

Ella cantaba boleros es producto de las recomendaciones de dos escritores y amigos de Guillermo Cabrera Infante: Mario Vargas Llosa y Javier Marías. El primero le aconsejó que publicara Ella cantaba boleros como narración independiente, en lugar de incluirlo en Tres tristes tigres a manera de hilo conductor. Por su parte, Marías le hizo notar que el último capítulo de La Habana para un infante difunto era perfecto y que debería publicarse por separado. Así pues, en este libro las dos narraciones se encuentran, en palabras de su autor, «juntas y revueltas», aunadas en última instancia por la inventiva, el humor y el erotismo característicos de su literatura.

ENGLISH DESCRIPTION

Two stories extracted from two of Cabrera Infante's main novels, published by the author in a single volume.
 
She Sang Boleros is the outcome of suggestions by two of Cabrera Infante's writer friends: Mario Vargas Llosa and Javier Marías. The former advised him to publish Ella cantaba boleros / She Sang Boleros as an independent narrative, instead of including it as a common thread in Tres tristes tigres / Three Trapped Tigers. For his part, Marías pointed out that the last chapter of La Habana para un infante difunto / Infante's Inferno was perfect as a stand-alone and that it should be published separately. Thus, in this book the two narratives live, in the words of its author, "together and not separate", joined by the ingenuity, cleverness, humor, and eroticism characteristic of Cabrera Infante's literature.
Praise For Ella cantaba boleros / She Sang Boleros…
Sobre el autor y su obra:

«Guillermo Cabrera Infante era un grandísimo escritor.» -Mario Vargas Llosa

«Uno de los mayores y mejores renovadores de la prosa en castellano, un clásico de vanguardia.» -Fernando Savater

«Su talento verbal era extraordinario, tanto de viva voz como por escrito, aunque esto último lo sepa cualquiera que haya leído sus libros.» -Javier Marías
Debolsillo, 9788466352895, 312pp.
Publication Date: February 23, 2021
About the Author
Guillermo Cabrera Infante (Gibara, Oriente, Cuba, 1929 - Londres, 2005) es uno de los más grandes escritores en español del siglo XX. Director de la Cinemateca de Cuba de 1951 a 1956, fue crítico de cine, director del Consejo Nacional de Cultura, subdirector del diario Revolución y director del magazine cultural cubano Lunes de revolución. Durante el primer gobierno de Fidel Castro (1962-1965) fue agregado cultural de Cuba en Bruselas, pero las discrepancias con el régimen cubano le llevaron a abandonar su cargo diplomático y asilarse en Londres. Sus obras conforman un friso de La Habana prerrevolucionaria y muestran su ideario literario, basado en el goce estético, el erotismo, el humor y la parodia, y un dominio del lenguaje sin igual en el idioma. Fue el primer escritor guionista latinoamericano que trabajó para la industria de Hollywood e impartió clases en las universidades de Virginia y West Virginia. En su obra destacan los volúmenes de relatos Así en la paz como en la guerra (1960), Delito por bailar el chachachá (1995) y Todo está hecho con espejos: cuentos casi completos (1999); las novelas Tres tristes tigres (1967), La Habana para un infante difunto (1679) y La ninfa inconstante (2008); las recopilaciones de críticas cinematográficas Un oficio del siglo XX (1963), Arcadia todas las noches (1978) y Cine o sardina (1997); el ensayo Puro humo (2000), los libros de carácter autobiográfico Cuerpos divinos (2010) y Mapa dibujado por un espía (2013), ambos publicados póstumamente, y las recopilaciones de artículos Vista del amanecer en el trópico (1974), O (1975), Exorcismos de esti(l)o (1976), Mea Cuba (1972), Mi música extremada (1996), Vidas para leerlas (1998) y El libro de las ciudades (1999). En 1997 fue galardonado con el Premio Cervantes.
or
Not Currently Available for Direct Purchase