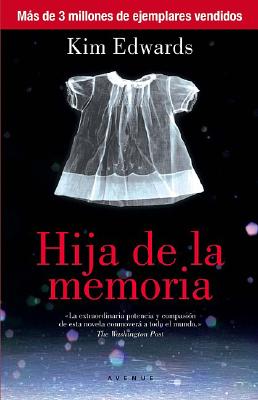 Hija de la Memoria = The Memory Keeper's Daughter (Paperback)
Rba Libros, 9788479011161, 383pp.
Publication Date: May 1, 2007
Other Editions of This Title:
Digital Audiobook (10/17/2016)
Paperback (5/30/2006)
Paperback, Large Print (2/1/2007)
Prebound (5/30/2006)
Hardcover (6/23/2005)
Compact Disc, Abridged (7/1/2005)
Paperback (8/1/2007)
Paperback (2/1/2008)
* Individual store prices may vary.
Description
El invierno de 1964, una repentina tormenta cubre de nieve el area de Lexington, Kentucky. Las carreteras son peligrosas, pero el doctor David Henry esta decidido a conducir al hospital a su mujer, Norah, para que pueda dar a luz a su primer hijo. Pronto se hace evidente que las carreteras son demasiado traicioneras y decide pararse en su propia consulta medica. Aqui, con la ayuda de su enfermera, Caroline, puede asistir al parto de su hijo Paul. Pero de manera inesperada, Norah pare una segunda criatura, una nina, Phoebe, en quien David reconoce inmediatamente el sindrome de Down. David decide ahorrar a su mujer lo que entiende como una vida de padecimientos. Entrega la nina a Caroline junto con la direccion de la casa donde quiere que la deje, sin imaginar ni anticipar de que manera su accion servira para destruir todo aquello que pretende proteger. Entonces se gira hacia Norah y le dice: "La pequena ha muerto en el momento de nacer." Pero tal como muestra de forma elocuente Hija de la memoria, la vida es una imagen en movimiento, que se desarrolla y cambia fuera de nuestro control. A pesar de que deseamos congelar un momento, volver al pasado o alterar los acontecimientos, el tiempo nos empuja hacia delante. Con esta novela conmovedora pero llena de esperanza, Kim Edwards explora los misterios del dolor, el amor y el poder de la verdad, tanto para desestabilizar como para curar. ENGLISH DESCRIPTION A brilliantly-crafted, stunning debut, The Memory Keeper's Daughter, explores the way life takes unexpected turns, and how the mysterious ties that hold a family together help us survive the heartache that occurs when long-buried secrets burst into the open. During a snowstorm on a winter night in 1964, David's young wife, Norah, goes into labor prematurely. When the storm prevents her obstetrician from attending the birth, David and his nurse, Caroline, must handle it themselves. Caroline puts Norah to sleep ?a standard practice then? and David delivers an unanticipated set of twins. His son, born first, is perfectly healthy. Yet when his daughter is born, he sees immediately that she has Down's syndrome. Haunted by the memory of growing up with a chronically ill sister and rationalizing it as a need to protect Norah, his wife, David makes a split-second decision that will alter all of their lives forever. He asks Caroline to take his infant daughter to an institution and never to reveal the secret, but Caroline, the nurse, cannot leave the infant. Instead, she disappears into another city to raise the child herself. So begins this beautifully told story that unfolds over a quarter of a century in which these two families, ignorant of each other, are yet bound by the fateful decision made that long-ago winter night. "A heart-wrenching book, by turns light and dark, literary and suspensful." -Library Journal ..". Anyone would be struck by the extraordinary power and sympathy of The Memory Keeper's Daughter." -The Washington Post.
or
Not Currently Available for Direct Purchase