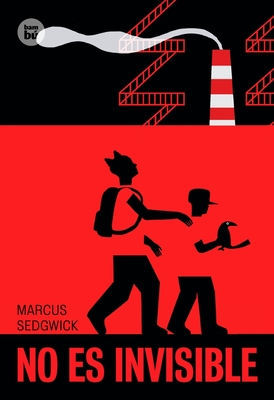 No es invisible (EXIT) (Paperback)
Bambú, 9788483433096, 280pp.
Publication Date: November 1, 2015
* Individual store prices may vary.
Description
When Laureth Peak, daughter of the famous bestselling writer Jack Peak, decides to travel to New York with her younger brother, she is not aware of the labyrinth of suspicion and uncertainty that awaits them in the Big Apple. Their father has disappeared, and the only clue the kids have to find him is a puzzling notebook of his. Laureth is blind and used to overcoming daily obstacles, but on this occasion she needs to sharpen her wit even more and believe in herself more than ever.
About the Author
Marcus Sedgwick is an award-winning author whose books have been short-listed more than 30 times, including for the Carnegie Medal five times, the Edgar Allan Poe Award twice, and the Guardian Children s Fiction Prize five times. He has also received the Printz Award, the Booktrust Teenage Prize, the Blue Peter Book Award, and a Printz Honor. He was a writer in residence at Bath Spa and has taught creative writing at Arvon and Ty Newydd. He is the author of The Dark Flight Down, The Ghosts of Heaven, A Love Like Blood, Midwinterblood, and Revolver."
Praise For No es invisible (EXIT)…
"Sedgwick plunges us deep into Laureth's experience, detailing the actions and considerations that seem tiny to the sighted—such as deciphering money, shaking hands, using a phone, or standing in line—but which are wholly different for the visually impaired. This fast-paced thriller delivers a compelling mystery, thought-provoking questions about existence, and brilliantly lifelike characters."  —Booklist, starred review, on the English-language edition
"Printz-winner Sedgwick again demonstrates his remarkable versatility, trading the generations-spanning horrors of his recent books for an equally tense contemporary story about coincidence, obsession, and the ways in which we see the world."  —Publishers Weekly, starred review, on the English-language edition
"A thriller that challenges readers' understanding of the universe. . . . It's no coincidence that Sedgwick has crafted yet another gripping tale of wonder."  —Kirkus Reviews, starred review, on the English-language edition
"This novel will have readers feeling a creepy sensation on the backs of their necks long after the last page."  —School Library Journal, on the English-language edition