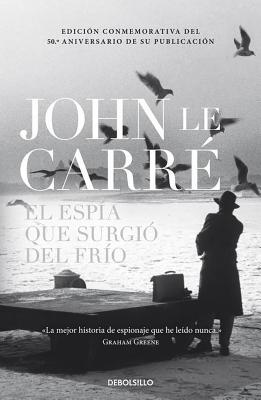 El espía que surgio del frio
Paperback

* Individual store prices may vary.
Other Editions of This Title:
Digital Audiobook (1/18/2012)
Paperback (9/3/2013)
Hardcover (9/1/2005)
Compact Disc (9/1/2009)
Paperback, Chinese (7/30/2014)
Paperback, Chinese (2/5/2020)
Compact Disc (8/6/2009)
Paperback (11/27/2001)
Paperback (1/18/2012)
Paperback (11/1/2011)
Paperback (7/1/2011)
Compact Disc (1/26/2012)
CD-Audio (8/28/2014)
Description
Vuelve El espía que surgió del frío, la novela que catapultó a John le Carré a la fama mundial, en una nueva edición que incluye una introducción del autor con motivo del 50º aniversario de su publicación. El agente doble Alec Leamas está hastiado. Ha pasado demasiado tiempo en el frío, escondido en las sombras del telón de acero espiando para el gobierno británico, donde ha visto morir a demasiados compañeros. Y decide aceptar la última misión que Control le ha encomendado desde Londres para vengar a aquellos que cayeron. Deberá viajar al corazón de Alemania Oriental para convertirse en peón de un enrevesado complot de venganza; un trabajo que llevará a cabo con la cínica profesionalidad que le ha convertido en uno de los mejores espías. Pero pronto descubrirá que ha escogido el peor camino posible. «Le Carré es uno de los mejores escritores que hay.» Vanity Fair «El retrato de un hombre que ha vivido tanto tiempo en la mentira y el subterfugio que ha olvidado cómo contar la verdad.» Time «Escrita con una claridad elegante e inclemente. El espía que surgió del frío es más que un thriller excelente.» Time «Puede comunicar la emoción, desde el miedo sofocante al amor desesperado, con una convicción concisa y compasiva.» Sunday Times ENGLISH DESCRIPTION In the shadow of the newly erected Berlin Wall, Alec Leamas watches as his last agent is shot dead by East German sentries. For Leamas, the head of Berlin Station, the Cold War is over. As he faces the prospect of retirement or worse—a desk job—Control offers him a unique opportunity for revenge. Assuming the guise of an embittered and dissolute ex-agent, Leamas is set up to trap Mundt, the deputy director of the East German Intelligence Service—with himself as the bait. In the background is George Smiley, ready to make the game play out just as Control wants.
Debolsillo, 9788490327791, 248pp.
Publication Date: February 4, 2014
About the Author
John le Carré (1931) nació en Poole, Inglaterra. Después de cinco años en el British Foreign Service, se dedicó por completo a escribir. Su tercera novela, El espía que surgió del frío, le proporcionó fama internacional. Además de ser el renovador y reconocido maestro de la novela de espionaje, está considerado uno de los más grandes autores de la literatura británica contemporánea. Sus novelas más recientes son El sastre de Panamá, Single & Single, El jardinero fiel, Amigos absolutos, La canción de los misioneros, El hombre más buscado, Un traidor como los nuestros y Una verdad delicada.
or
Not Currently Available for Direct Purchase