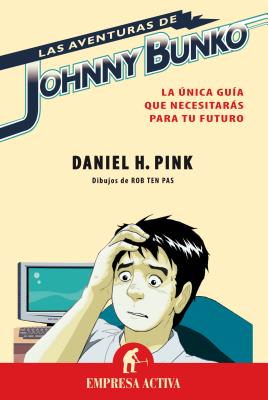 Las Aventuras de Johnny Bunko: La Unica Guia Que Necesitaras Para Tu Futuro = The Adventures of Johnny Bunko (Paperback)
La Unica Guia Que Necesitaras Para Tu Futuro = The Adventures of Johnny Bunko
Empresa Activa, 9788492452095, 160pp.
Publication Date: November 1, 2008
* Individual store prices may vary.
or
Not Currently Available for Direct Purchase
Description
There's never been a career guide like THE ADVENTURES OF JOHNNY BUNKO: The Last Career Guide You'll Ever Need. Told in manga - the Japanese comic book format that's an international sensation - it's the fully illustrated story of a young Everyman just out of college who lands his first job. Johnny Bunko is new to the Boggs Corp., and he stumbles through his early months as a working stiff until a crisis prompts him to rethink his approach. Step by step he builds a career, illustrating as he does the six core lessons of finding, keeping, and flourishing in satisfying work. A groundbreaking guide to surviving and flourishing in any career, THE ADVENTURES OF JOHNNY BUNKO is smart, engaging and insightful, and offers practical advice for anyone looking for a life of rewarding work.
About the Author
Daniel H. Pink is a former White House speechwriter and the author of the bestseller "Free Agent Nation," A contributing editor at "Wired" magazine, he has written on work, business, and politics for "The New York Times," "Harvard Business Review," "Slate," "Salon," "Fast Company," and other publications. He has also lectured to corporations, universities, and associations around the world on economic transformation and business strategy, and has analyzed commercial and social trends for dozens of television and radio programs.
Advertisement