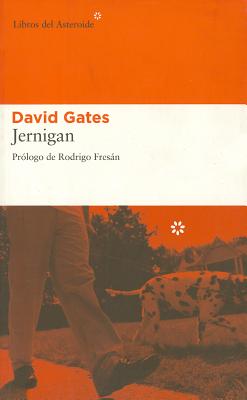 Jernigan (Paperback)
Libros del Asteroide, 9788492663170, 384pp.
Publication Date: April 1, 2010
Other Editions of This Title:
Paperback (3/31/1992)
* Individual store prices may vary.
Description
Peter Jernigan is barely over forty, lives in a suburb in New Jersey with his teenaged son Danny, and works in a New York real estate agency. Intelligent, but lacking success, Jernigan flounders through his ordinary life, from which neither his addictions nor his sarcasm can save him. His eccentricity and the recent death of his wife drag him towards a tortuous decadence. But things seem capable of changing when he meets Martha Peretsky, his son's girlfriend's divorced mother, and the two begin a promising relationship. This is the entertaining story of a man who, guided by his worst qualities, succeeds in turning his life into a failure of epic proportions. Peter Jernigan's captivating voice accompanies us through his peculiar descent into hell, while offering a hilarious dissection of the selfishness, indifference, and cruelty that exists within all of us. Published in 1991, and a Pulitzer Prize finalist, this is David Gates's first and most acclaimed novel, and its protagonist has become one of modern American literature's classic antiheroes.
Peter Jernigan tiene poco más de cuarenta años, vive en un barrio residencial de Nueva Jersey con su hijo adolescente, Danny, y trabaja en una inmobiliaria neoyorquina. Inteligente pero con escaso éxito, Jernigan naufraga en una adocenada vida de la que no consiguen sacarlo ni sus adicciones ni su sarcasmo. Su estrafalaria manera de relacionarse con los demás y la reciente muerte de su mujer lo arrastran a una tortuosa decadencia. Parece que las cosas pueden empezar a cambiar cuando conoce a Martha Peretsky, la madre divorciada de la novia de su hijo, e inician una prometedora relación. Esta es la divertídisima historia de un hombre que, dejándose llevar por sus peores cualidades, consigue convertir su vida en un estrepitoso fracaso. La cautivadora voz de Peter Jernigan nos acompaña en su particular descenso a los infiernos, a la vez que ofrece una desternillante disección del egoísmo, la indiferencia y la crueldad que se hallan en el fondo de cada uno de nosotros. Publicada en 1991 y finalista del Premio Pulitzer, esta es la primera y más aclamada novela de David Gates, y su protagonista se ha convertido en uno de los antihéroes clásicos de la literatura norteamericana reciente.
About the Author
David Gates is an American journalist, novelist, and short story writer. He is the author of the novel Preston Falls and of the short story collection The Wonders of the Invisible World. His first novel, Jernigan was a Pulitzer Prize finalist.


Praise For Jernigan…
"Mr. Gates has created one of recent literature's most memorable anti-heroes, and . . . established himself as a novelist of the very first order." —New York Times, on the English-language edition
"[Has a] jumpy, boozy, post-modern ironic belligerence. . . . This is a profoundly sorrowful book, one that lingers, unbidden, in the heart." —New York Times Book Review, on the English-language edition
"Brilliantly handled. . . . At once harrowing and hilarious, an artful chronicling of one man's free-fall into an exhilarating, devouring nihilism." —San Francisco Chronicle, on the English-language edition
"A sizzler of a novel." —Joseph Heller, author, Catch-22, on the English-language edition
or
Not Currently Available for Direct Purchase