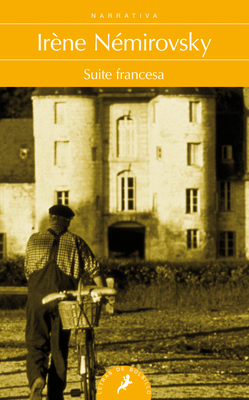 Suite Francesa / Suite Française
Paperback

* Individual store prices may vary.
Other Editions of This Title:
Digital Audiobook (7/15/2013)
Paperback (4/10/2007)
Paperback, French (4/1/2005)
CD-Audio (4/6/2006)
Paperback, Large Print, Large Print (4/1/2007)
Paperback, Spanish (5/7/2015)
Paperback (2/1/2007)
Hardcover (4/11/2006)
Description
Novela excepcional escrita en condiciones excepcionales, Suite francesa retrata con maestr a una poca fundamental de la Europa del siglo XX.

En oto o de 2004 le fue concedido el premio Renaudot, otorgado por primera vez a un autor fallecido. Imbuida de un claro componente autobiogr fico, Suite francesa se inicia en Par's los d as previos a la invasi n alemana, en un clima de incertidumbre e incredulidad. Enseguida, tras las primeras bombas, miles de familias se lanzan a las carreteras en coche, en bicicleta o a pie. N mirovsky dibuja con precisi n las escenas, unas conmovedoras y otras grotescas, que se suceden en el camino: ricos burgueses angustiados, amantes abandonadas, ancianos olvidados en el viaje, los bombardeos sobre la poblaci n indefensa, las artima as para conseguir agua, comida y gasolina. A medida que los alemanes van tomando posesi n del pa's, se vislumbra un desmoronamiento del orden social imperante y el nacimiento de una nueva poca. La presencia de los invasores despertar odios, pero tambi n historias de amor clandestinas y p blicas muestras de colaboracionismo. Concebida como una composici n en cinco partes #de las cuales la autora's lo alcanz a escribir dos# Suite francesa combina un retrato intimista de la burgues a ilustrada con una visi n implacable de la sociedad francesa durante la ocupaci n. Con lucidez, pero tambi n con un desasosiego notablemente exento de sentimentalismo, N mirovsky muestra el fiel reflejo de una sociedad que ha perdido su rumbo. El tono realista y distante de N mirovsky le permite componer una radiograf a fiel del pa's que la ha abandonado a su suerte y la ha arrojado en manos de sus verdugos. Estamos pues ante un testimonio profundo y conmovedor de la condici n humana, escrito sin la facilidad de la distancia ni la perspectiva del tiempo, por alguien que no lleg a conocer siquiera el final del cataclismo que le toc vivir. La cr tica ha dicho...

«Una narraci n de un vigor extraordinario. -Le Monde

«Una obra excelente. -New York Times

«Es preciso leer este libro. -Le Nouvel Observateur

«Una obra maestra. -L'Express

«Un libro de una calidad literaria excepcional. -TLS DESCRIPTION IN ENGLISH Beginning in Paris on the eve of the Nazi occupation in 1940. Suite Fran aise tells the remarkable story of men and women thrown together in circumstances beyond their control. As Parisians flee the city, human folly surfaces in every imaginable way: a wealthy mother searches for sweets in a town without food; a couple is terrified at the thought of losing their jobs, even as their world begins to fall apart. Moving on to a provincial village now occupied by German soldiers, the locals must learn to coexist with the enemy--in their town, their homes, even in their hearts.When Ir ne N mirovsky began working on Suite Fran aise, she was already a highly successful writer living in Paris. But she was also a Jew, and in 1942 she was arrested and deported to Auschwitz, where she died. For sixty-four years, this novel remained hidden and unknown.
Salamandra Bolsillo, 9788498383706, 480pp.
Publication Date: February 2, 2012
About the Author
Irène Némirovsky nació en Kiev en 1903 en el seno de una familia acaudalada que huyó de la revolución bolchevique para establecerse en París en 1919. Hija única, Irène recibió una educación exquisita, aunque padeció una infancia infeliz y solitaria. Años antes de obtener la licenciatura en Letras por la Sorbona, su precoz carrera literaria se inicia en 1921 con la publicación del texto Nonoche chez l ́extralucide en la revista bimensual Fantasio. Pero su salto a la fama se produce en 1929 con su segunda novela, David Golder, la primera que vio la luz en forma de libro. Fue el inicio de una deslumbrante trayectoria que consagraría a Némirovsky como una de las escritoras de mayor prestigio de Francia, elogiada por personajes de la talla de Jean Cocteau, Paul Morand, Robert Brasillach y Joseph Kessel. Sin embargo, la Segunda Guerra Mundial marcó trágicamente su destino. Denegada en varias ocasiones por el régimen de Vichy su solicitud de nacionalidad francesa, Némirovsky fue deportada y murió en Auschwitz en 1942, igual que su marido, Michel Epstein. Sesenta años más tarde, el azar quiso que Irène Némirovsky regresara al primer plano de la actualidad literaria con el enorme éxito de Suite francesa, su obra cumbre, descubierta casualmente por sus hijas, publicada en 2004 y galardonada a título póstumo con el premio Renaudot, entre otras muchas distinciones. Transcurridos 75 años desde su fallecimiento, las novelas de Irène Némirovsky han sido traducidas a treinta y nueve idiomas, demostrando el interés por una autora que se sitúa sin duda entre los grandes escritores del siglo XX.
or
Not Currently Available for Direct Purchase