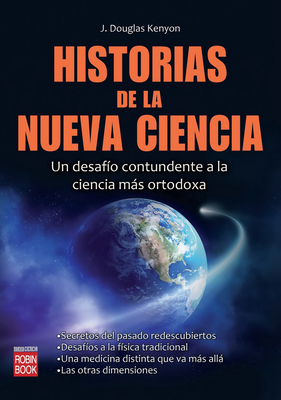 Historias de la nueva ciencia
Un desafío contundente a la ciencia más ortodoxa
Paperback

* Individual store prices may vary.
Other Editions of This Title:
Paperback (2/11/2008)
Description
A collection of essays from various researchers who contribute to the bimonthly journal Atlantis Rising, this book questions established scientific knowledge and addresses questions that orthodox science continues to leave unanswered. The ongoing debate in the scientific community between traditional materialistic theory and anything that could be considered spiritual or metaphysical will resonate with readers as they make their way through this introductory course of sorts on what is deemed "New Science." Controversial issues such as the existence of Atlantis, extrasensory perception, and intelligent life on other planets are all addressed with the utmost respect and diligence in this compilation of polemic knowledge and research.
Una colección de ensayos escritos por varios investigadores que contribuyen a la revista bimensual Atlantis Rising, este libro cuestiona los conocimientos científicos establecidos y aborda preguntas que la ciencia ortodoxa aún sigue sin contestar. El debate que existe dentro de la comunidad científica entre la teoría materialista tradicional y cualquier cosa que pueda ser considerada espiritual o metafísica resonará con el lector a lo largo de este curso introductorio de lo que se considera la "Nueva Ciencia." Asuntos controversiales tales como la existencia de Atlantis, la percepción extrasensorial y la vida inteligente en otros planetas son discutidos con respeto y diligencia en esta compilación de conocimientos y estudios polémicos.
Redbook Ediciones, 9788499171470, 302pp.
Publication Date: March 1, 2013
About the Author
J. Douglas Kenyon is the publisher of "Atlantis Rising," a magazine that explores unexplained historical and scientific phenomena. He is the author of "Ciencia prohibida."
or
Not Currently Available for Direct Purchase