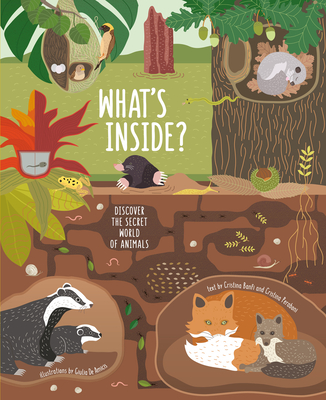 What's Inside?
Discover the Secret World of Animals
Hardcover

* Individual store prices may vary.
Description
Where are the animals? In their hidden homes See how master builders like bees, ants, foxes, beavers, bears, octopus, and many more animal architects build their intricate dwellings. Whether it's a shelter, a nest, a coral reef, or an underground tunnel, animals build their homes to stay safe, rear their children, keep warm or cool, or even hibernate all winter. Many of these habitats are absolutely fascinating, from the complicated city-towers of a termite colony to a beehive's impeccable geometric structure. Each of these dwellings hides unexpected and interesting secrets, and this beautifully illustrated book, with large foldouts, leads us on a unique journey to uncover the hidden lives of animals. Follow moles into their burrows, explore an anthill (including a "nursery"), learn how octopuses adapt to the tiniest of spaces, see sleek foxes in their dens, examine the ingenious entrances to a beaver lodge, find out why the elf owl depends on a prickly cactus for protection from predators, and more.
White Star Kids, 9788854413276, 64pp.
Publication Date: November 3, 2020