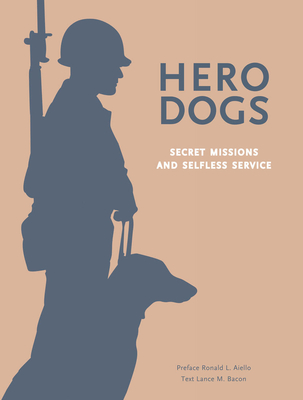 Hero Dogs
Secret Missions and Selfless Service
Hardcover

* Individual store prices may vary.
Other Editions of This Title:
Hardcover (11/6/2012)
Description
Powerful and touching, these are the stories of military working dogs that have played an important role in everything from humanitarian missions to major war battles.
Now reissued with a new cover design and additional content. From World War I on, dogs have served alongside soldiers in history's most decisive battles. Today's specially trained war dogs--like the anonymous canine hero that took part in the top-secret mission against Osama bin Laden--are a breed apart, assisting their human friends in everything from landmine and tunnel detection to locating improvised explosive devices. Filled with hundreds of dramatic never-before-seen photos, and information about the animals' history and training, this new edition features inspiring tales of selfless battlefield service related by the war dogs' handlers and fellow soldiers. Many dogs have earned recognition for heroism. Others struggle with wounds and post-traumatic stress. Dozens died in the line of duty. These are their unforgettable stories.

White Star Publishers, 9788854416932, 172pp.
Publication Date: October 6, 2020
About the Author
Ronald L. Aiello served in the United States Marine Corps from 1964 to 1970 when he had the honor of working with the First Marine Scout Dog Platoon. In 2000, Ron and four other Vietnam Veteran dog handlers formed The United States War Dogs Association, Inc., which is a nonprofit organization of former and current US military dog handlers and supporting members. Ron has been guiding his organization as president, making decisions on a daily basis to make sure that our US Military Working Dog Teams that are deployed to the Middle East are receiving complete support through Operation Military Care, K9. Lance M. Bacon is senior staff writer for Army Times, an independent weekly newspaper serving U.S. Army personnel and their families. His combat coverage in Afghanistan includes an award-winning piece on the Battle of Roberts Ridge. Bacon is a Marine Corps veteran with eight honorable years of service (1989-1997). He received dozens of journalism awards, including being twice recognized as the Marine Corps' journalist of the year, and runner-up a third year.