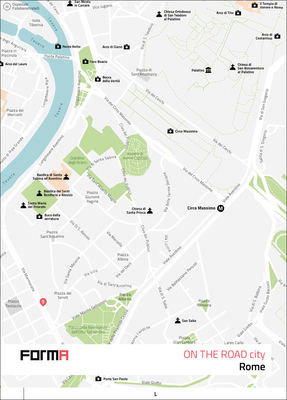 Rome
On the Road Architectural Guides
Paperback

* Individual store prices may vary.
Description
Rome, the 'Eternal City', is not only enriched by buildings and monuments that preserve the culture of Italy in the symbolic center of Christianity and the hub of the Italian Republic. The architecture of Rome also tells the story of a process of restoration and innovation. During the 1930s, the social and cultural revolution led to calls for functionality and practicality, which are represented by impressive modern public and residential works, as well as by major initiatives from architectural forces of urban change in the capital. This handy pocket guide to modern and contemporary architecture in Rome has entries for 87 buildings, and a clever folding map with thumbnail photographs which correspond to marked locations. It includes indices by architect and by project, accessibility to the public, and directions by bus and metro.
Forma Edizioni, 9788855210157, 224pp.
Publication Date: February 29, 2020
About the Author
Ilia Celiento, an architect and teaching assistant at the University of Campania Luigi Vanvitelli, is the author of articles and descriptive texts on architecture and design, and has edited numerous monographs on contemporary architecture.