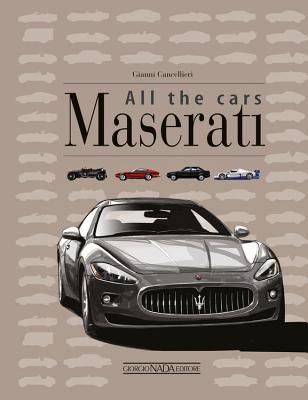 Maserati All the Cars (Hardcover)
Giorgio Nada Editore Srl, 9788879116091, 356pp.
Publication Date: May 15, 2016
* Individual store prices may vary.
Description
Maserati turned 100 years old in 2014 - a century of history, graced by some of the world's greatest technicians, racing drivers, cars and victories. MASERATI ALL THE CARS is a 'catalogue' that celebrates the House of the Trident by bringing together almost all its production, from the Tipo 26 - the Grand Prix racer with which the Maserati brothers first became constructors back in 1926 - to current production cars like the GranTurismo, Quattroporte, Ghibli and the brand new Kubang. Between the two were road and racing cars that were true icons of automobile history. The first group includes, among others, the A6 1500, 3500 and 5000 GT, the Ghibli, Indy and Merak; the second the astounding 8CTF, the A6GCSs, the 250 F, the 'Birdcage' and the more recent MC12. The book includes 150 full color designs by illustrator Michele Leonello.
About the Author
Gianni Cancellieri is one of the best known Italian motor sport writers. Born in Mantua in 1934, he now lives and works in Milan. He has previously edited a number of the country's most important motoring and motor sport magazines, among them Autosprint and Ruoteclassiche. Cancellieri has written, contributed to and edited numerous books on Formula One and its drivers. For many years, he has been the supervising editor of the Giorgio Nada Editore series "Racing Lives",  devoted to the great champions of the past. He is the author of Maserati All the cars (2015) and co-author of the official book Maserati. A century of history (2014).