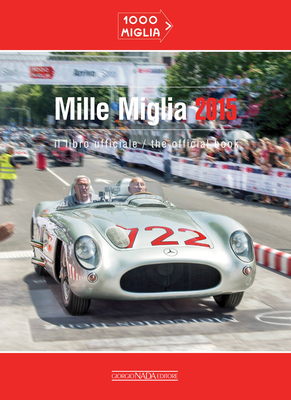 Mille Miglia 2015 (Hardcover)
Il Libro Ufficiale/The Official Book
Giorgio NADA Editore, 9788879116435, 288pp.
Publication Date: May 15, 2016
* Individual store prices may vary.
Description
The new, official book of the 2015 Mille Miglia opens with a focus on the memorable victory in the 1955 event by Stirling Moss and Denis Jenkinson in a Mercedes-Benz 300 SLR. They won the Brescian classic at an incredible average speed of 157 kph (97.6 mph), a record that has remained unbeaten. And three of those Silvers Arrows dominated the 2015 commemorative Mille Miglia, opening the roads of northern Italy for the crews that had brought their extraordinary cars to the event, which touched, as always, a number of the most delightful cities and locations in the bel paese. This year's race was dominated by the Bugattis, with the French-built cars taking the first 10 places overall as well as in that Temple of Speed, the Monza Autodrome. The 2015 Mille Miglia's visit to one of the world's fastest racing circuits was its homage to Milan, home of the world-famous Expo, to which the central part of the book is devoted and which concludes as in previous years with a systematic cataloging of all 438 starters. Yet another record for a race that retains unaltered its unequalled fascination. As always, numerous professional racing drivers were at the start of the race, including Sir Stirling Moss, Hans Herrmann and Ralf Schumacher, each driving one of the works Mercedes-Benz 300 SLRs and they were joined by Jochen Mass, Cesare Fiorio, Derek Bell and Karl Windlinger.
About the Author
Born in Brescia in 1959, Paolo Mazzetti has been working since years in the organization for the revival of the Mille Miglia race. He has been the first Director of the Mille Miglia Museum of Brescia, and since 2012 he is Editorial & Historic Services Director at '1000 Miglia Srl', the company organizing the Mille Miglia reenactment. He has also written some books on Red Arrows, Mille Miglia Club and Scuderia Brescia Corse.
or
Not Currently Available for Direct Purchase