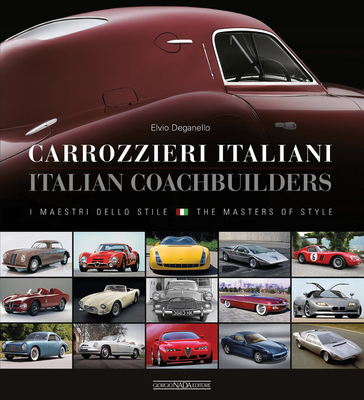 Carrozzieri Italian/Italian Coachbuilders (Hardcover)
I maestri dello stile/ The masters of style
Giorgio Nada Editore Srl, 9788879116572, 408pp.
Publication Date: February 1, 2017
* Individual store prices may vary.
Description
For more than a half century Italian body builders were the leaders of world style, generating creativity, a trend towards innovation and an ability of execution that appears super-human today. The aesthetic values and technology expressed by their work transmitted Italian culture and genius across the globe. Their creations were multiplied in millions of examples, influencing taste and trends in car design, among other things, in every corner of the world. But in spite of the dimensions and importance of their work, the Italian body stylists were often undervalued. This book brings together the profiles of no fewer than 36 of the best known stylists in the history of Italian car design: they include Allemano, Bertone, Castagna, Ghia, Pininfarina, Touring, Vignale and Zagato. The story of each one of them is told through the extraordinary wealth of their iconographic patrimony, most of which have never been published.The body stylists appearing in this book are: Allemano, Balbo, Bertone, Boano, Boneschi, Castagna, Colli, Ellena, Fantuzzi, Fissore, Francis Lombardi, Frua, Garavini, Ghia, ItalDesign, Lotti, Michelotti, Monterosa, Monviso, Moretti, Motto, OSI, Pininfarina, Riva, Savio, Sala, Scaglietti, Scioneri, Siata, Sibona, Sportscar/Piero Drogo, Stabilimenti Farina, Touring, Vignale, Viotti, Zagato.
About the Author
Born in 1946, Elvio Deganello is a leading automotive historian and as a freelance journalist he has contributed to numerous specialist periodicals. He has also published a number of books including Fiat Abarth 595/695 and Fiat Abarth 850/1000.Arturo Rizzoli was born in 1957. A radio and television journalist, for a period of time he was also the press officer at the Imola racing circuit. In 1990 he joined the editorial team at Autosprint, one of the most important Italian motorsport magazines.
Praise For Carrozzieri Italian/Italian Coachbuilders: I maestri dello stile/ The masters of style…
Trust us; this is not just another coffee table book about Italian coach builders, but as close as we will probably come to a bible.
- VeloceToday.com
or
Not Currently Available for Direct Purchase