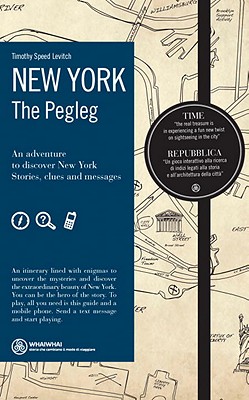 New York
The Pegleg
Paperback

* Individual store prices may vary.
Description
The mysteries and legends of the Big Apple unveiled through the interactive pages of the WhaiWhai guidebook: an unconventional guide for tourists and travelers who are looking for an out-of-the-ordinary experience. In the WhaiWhai guidebook series, readers will experience an interactive treasure hunt through six cities, unlocking their mysteries and discovering their most charming corners. To play, all you need is the WhaiWhai guide and a mobile phone. Send a text message to WhaiWhai that includes a special code and immediately receive your first clue. As you travel to each new location throughout the city, a new clue is revealed. Each city has a different treasure, and finding it will be an exciting experience. WhaiWhai combines history and fantasy, allowing readers to step into a story that plays out inside the city, sparking their curiosity and making them the hero of an adventure. In New York: The Pegleg, readers will find themselves flung back to 1647, when a particular pegleg, a prosthesis with mystical powers, appeared on Manhattan Island. At the time, the island's southern tip was a Dutch trading post called, "New Amsterdam." In that year, the new Dutch governor, Peter Stuyvesant, stepped ashore and planted his wooden leg, which was covered with bands of silver, firmly on this soil. After Stuyvesant's death, the magical limb lay hidden with him in his family's crypt in the east village, but right before the crypt was permanently sealed, the pegleg vanished and has been missing ever since. Shlep Wallace, an old, semi-retired props master, has accidentally found a secret, lost notebook of the renowned scientist, Nikola Tesla, that could be of vital importance to locate the legendary pegleg. But he needs your help to find it, before it falls into the wrong hands.
Marsilio, 9788895836164, 128pp.
Publication Date: September 13, 2011
About the Author
Timothy Speed Levitch descends from immigrants who passed through Ellis Island at the turn-of-the-century. A writer, tour guide, and actor, Levitch has performed in films such as The Cruise and Waking Life. His short film entitled Live From Shiva's Dance Floor won a special jury prize at the Tribeca Film Festival. His walking tour of Wall Street was published in The Outlaw Bible of American Essays and several of his walking tours of New York neighborhoods are collected in the book, Speedology. Levitch has also designed tours in San Francisco, Chicago and Kansas City. Speed's tours are as much about a city and its history as they are about human problems of intimacy and psychology.
or
Not Currently Available for Direct Purchase