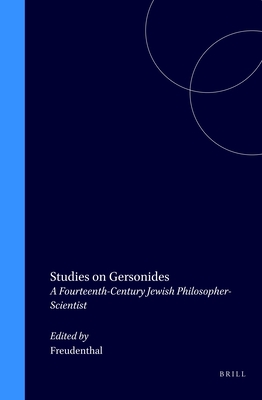 Studies on Gersonides (Hardcover)
A Fourteenth-Century Jewish Philosopher-Scientist (Collection de Travaux de L'Acadimie Internationale D'Histoire Des Sciences #36)
Brill, 9789004096417, 422pp.
Publication Date: November 1, 1992
* Individual store prices may vary.
Description
R. Levi ben Gershom (Gersonides, 1288-1344) is one of the greatest and most original figures of Medieval Jewish thought. He wrote numerous works in philosophy, science and biblical exegesis. Some of his scientific works, most notably his highly innovative Astronomy, were translated from Hebrew into Latin and could thus reach non-Jewish scholars.
The twelve studies collected in this bilingual volume (English and French in equal parts) offer for the first time a comprehensive overview and assessment of Gersonides' work in astronomy, mathematics, logic, natural science, and psychology.
Gersonides' contributions are analyzed within the context of contemporary philosophy and science in Hebrew, Arabic, and Latin. New light is also shed on the reception of Gersonides' work within European science.
The volume includes a very extensive bibliography of writings by and about Gersonides.
From the contents:
Part I: Gersonides' Astronomy: Bernard R. Goldstein, Jos Luis Mancha, Jos Chabas, Henri Hugonnard-Roche, Guy Beaujouan.
Part II: Gersonides' Work in Mathematics: Tony L vy, Karine Chemla, Serge Pahaut.
Part III: Gersonides' Science in Its Relations to His Philosophy and Theology: Herbert A. Davidson, Tzvi Y. Langermann, Charles H. Manekin, Amos Funkenstein, Gad Freudenthal.
or
Not Currently Available for Direct Purchase