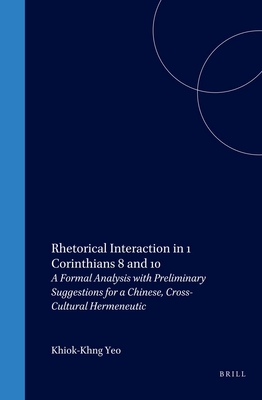 Rhetorical Interaction in 1 Corinthians 8 and 10 (Hardcover)
A Formal Analysis with Preliminary Suggestions for a Chinese, Cross-Cultural Hermeneutic (Biblical Interpretation #9)
Brill, 9789004101159, 275pp.
Publication Date: November 1, 1994
* Individual store prices may vary.
Description
Rhetorical Interaction in 1 Corinthians 8 and 10 is a formal analysis of Paul's rhetorical interaction with the Corinthians over the issues of participation in the cultic meal (1 Cor. 10:1-22) and the eating of idol food (1 Cor. 8:1-13, 10:23-11:1). The thesis is that Paul's theology and rhetoric are predicated on knowledge and love.
Major portions of the book employ rhetorical, sociological, archaeological, and historical-critical approaches to examine the triangular interaction between Paul, the Corinthians, and the biblical texts, paying particular attention to the complex configuration of the Corinthian congregation, including the influence of proto-Gnosticism, as well as the ways Paul responded to the shifting situation and different issues.
The two chapters on rhetorical-hermeneutical theory and criticism are especially creative as the author suggests a Chinese hermeneutic for cross-cultural dialogues, the issue of ancestor worship being a specific example.
About the Author
Khiok-khng (K.K.) Yeo, Ph.D. (1992) in New Testament, Northwestern University (Evanston), is a professor in Hong Kong. He is the executive editor of Jian Dao journal, and has published articles in the area of biblical studies and Chinese hermeneutics.
or
Not Currently Available for Direct Purchase