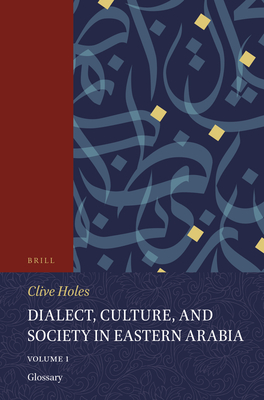 Dialect, Culture, and Society in Eastern Arabia, Volume 1 Glossary (Handbook of Oriental Studies (Hardcover)
Section 1; The Near and Middle East #51)
Brill, 9789004107632, 573pp.
Publication Date: November 10, 2000
* Individual store prices may vary.
Description
Dialect, Culture, and Society in Eastern Arabia is a three-volume study of the Arabic dialects spoken in Bahrain by its older generation, and of the socio-cultural factors which produced them.
The material on which the study is based consists of hundreds of hours of transcribed conversations gathered in the mid-1970s. All major social variables are covered in the speaker sample.
Volume I, Glossary, lists all the words, with extensive contextual exemplification, which occur in the complete set of texts. Volume II will present these complete texts, and an annotated and translated selection, together with an introduction on the origins of the eastern Arabian vocabulary, and cross references to previous works on the dialects of the area and to the Classical lexica. Volume III is a detailed study of the phonology, morphology and syntax of the dialects.
About the Author
Clive D. Holes, Ph.D. (1981) in Linguistics, University of Cambridge, is Khalid bin Abdullah al-Sa'ud Professor for the Study of the Contemporary Arab World at the University of Oxford. He has published widely on the Arabic language and its dialects.
or
Not Currently Available for Direct Purchase