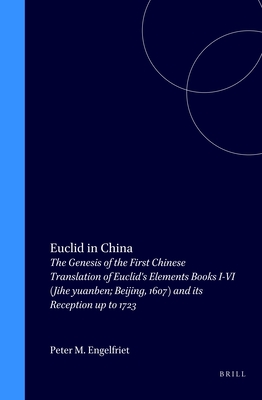 Euclid in China (Hardcover)
The Genesis of the First Chinese Translation of Euclid's Elements Books I-VI (Jihe Yuanben; Beijing, 1607) and Its Rec (Sinica Leidensia #40)
Brill, 9789004109445, 488pp.
Publication Date: February 26, 1998
* Individual store prices may vary.
Description
As part of the Jesuits' programme of introduction to European culture, in 1607 the Elements of Euclid ( 300 BC) were translated for the first time into Chinese.
The translation of this epoch-making ancient Greek textbook on deductive geometry meant a confrontation of contemporary Chinese and European cultures.
Part I of Peter Engelfriet's work deals mainly with the European and Chinese backgrounds, part II with linguistic and textual matters. In part III the manner in which learned Chinese tried to integrate this new knowledge into their own, Chinese, mathematical and cultural traditions comes to the fore.
This fascinating work explores in depth and at various levels the circumstances and mechanisms that shaped the transmission of a key work of science from one language and cultural context onto another. Consequently it offers often surprising insights into the ways of intercultural exchange and misunderstandings.
About the Author
Peter M. Engelfriet, Ph.D. (1996), in Sinology, University of Leiden, is Research Fellow of the Royal Dutch Academy of Arts and Sciences at the Sinological Institute of Leiden University.
or
Not Currently Available for Direct Purchase