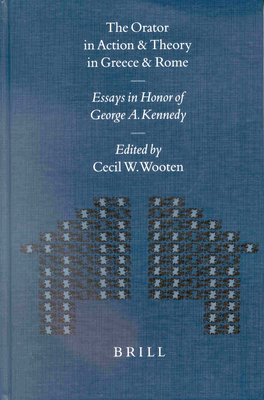 The Orator in Action and Theory in Greece and Rome (Hardcover)
Essays in Honor of George A. Kennedy (Mnemosyne #224)
Brill, 9789004122130, 174pp.
Publication Date: September 28, 2001
* Individual store prices may vary.
Description
This volume is a collection of essays, written by authorities in the field, on many aspects of ancient rhetoric. These essays deal both with the theory of rhetoric and the practice of oratory and are quite diverse both in tone and audience envisioned. Some of them deal with very basic questions such as how good an orator should appear to be; others deal with very technical matters such as theoretical considerations of issue theory or "figured speeches." Some are focussed on the actual practice of oratory in speeches such as those of Cicero and Caesar; others deal with manifestations of oratory in historical works such as the Histories of Herodotus or reflections on the nature of oratory in works like the Dialogus of Tacitus. One considers parallel developments in rhetorical and artistic treatments of the legend of Busiris.
About the Author
Cecil W. Wooten, Ph.D. (1971) in Classics, University of North Carolina at Chapel Hill, is Professor of Classics at the University of North Carolina. He is the author of Cicero's Philippics and their Demosthenic Model (1983) and translator of Hermogenes' On Types of Style (1987).
or
Not Currently Available for Direct Purchase