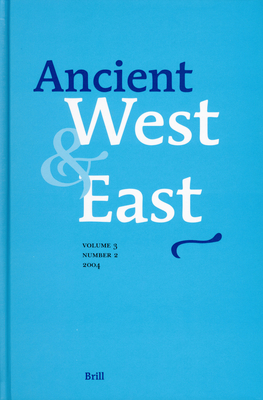 Ancient West & East (Hardcover)
Volume 3, No. 2
Brill, 9789004139756, 238pp.
Publication Date: May 18, 2005
Other Editions of This Title:
Hardcover (11/29/2006)
Hardcover (11/29/2005)
Hardcover (10/14/2004)
Hardcover (1/24/2003)
Hardcover (8/30/2002)
Hardcover (6/30/2006)
Hardcover (2/26/2004)
* Individual store prices may vary.
Description
Devoted to the study of the history and archaeology of the periphery of the Graeco-Roman world, this bi-annual aims to bring forward high-calibre studies from many disciplines and to provide a forum for discussion and better understanding of the interface of the classical and barbarian world throughout the period.
About the Author
Gocha R. Tsetskhladze works in the University of Melbourne. He has excavated for many years in the eastern and northern Pontus, has organised several international conferences, and has published extensively on the archaeology of Greek colonisation and on the Black Sea region, including Ancient Greeks West and East (Leiden, 1999), Die Griechen in der Kolchis (Amsterdam, 1998), and Pichvnari and its Environs (Paris, 1999). He recently co-edited North Pontic Archaeology. Recent Discoveries and Studies (Leiden, 2001).
or
Not Currently Available for Direct Purchase