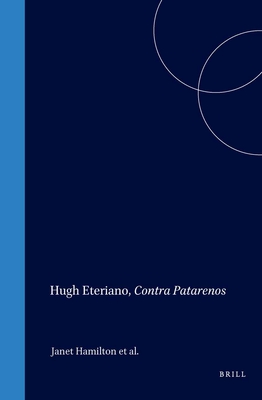 Hugh Eteriano, Contra Patarenos (Medieval Mediterranean #55) (Hardcover)
Brill, 9789004140004, 256pp.
Publication Date: October 14, 2004
* Individual store prices may vary.
Description
The Pisan scholar Hugh Eteriano was adviser on western church affairs to Manuel Comnenus, and lived in Constantinople from c.1165 -82, where he encountered an heretical group among the western inhabitants of the city, which prompted him to write the Contra Patarenos. Patarenes was an alternative name for Cathars, and this text is of considerable importance to an understanding of the relationship between the western Cathars and older Byzantine dualist movements. Hugh's treatise is here published for the first time in a text established from the two extant manuscripts, together with a commentary and translation, a biography of the author and an historical introduction about the place of Hugh's treatise in the history of Christian dualism.
About the Author
Bernard Hamilton, Ph.D. (1960) in History, University of London is Professor Emeritus of Crusading History at the University of Nottingham and has published extensively on Catharism and crusading history, including Crusaders, Cathars and the Holy Places (Ashgate,1999).Janet Hamilton, B.Litt. (1964) in classical art history, University of Oxford, has published with B. Hamilton Christian dualist heresy in the Byzantine world, c.650-1450 (Manchester U.P. 1998).Sarah Hamilton, Ph.D. (1997) in History, University of London, is Lecturer in Medieval History at the University of Exeter and has published The Practice of Penance 900-1050 (Royal Historical Society, Boydell and Brewer, 2001).
or
Not Currently Available for Direct Purchase