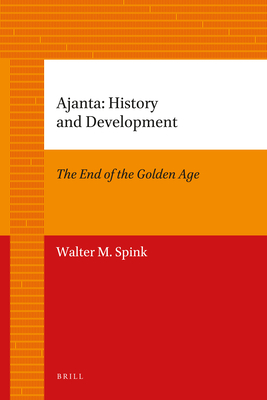 Ajanta (Hardcover)
History and Development, Volume 1 the End of the Golden Age (Handbook of Oriental Studies. Section 2 South Asia / Ajanta: #18)
Brill, 9789004148321, 424pp.
Publication Date: October 28, 2005
Other Editions of This Title:
Hardcover (3/13/2014)
Hardcover (11/13/2008)
Hardcover (10/28/2005)
Hardcover (2/2/2017)
Hardcover (12/28/2006)
* Individual store prices may vary.
Description
The twenty-nine Buddhist caves near Ajanta form a devotional complex which ranks as one of the world's most startling achievements, created at the very apogee of India's Golden Age.
Ajanta: History and Development, appears as part of the series Handbook of Oriental Studies, present the reader with a systematic treatment of all aspects of the site, the result of forty years of painstaking research in situ by Walter M. Spink.
Volume one deals with the historical context in which this dramatic burst of pious activity took place under the reign of Vakataka emperor Harisena, (c. 460 - 477 A.D.), and with the sudden halt of activity almost immediately following the death of the emperor. In surprising detail the relative and absolute chronology of the site can be established from a careful reading of the physical evidence, with consequences for our dating of India's Golden Age. Ajanta, it appears, is a veritable illustrated history of Harisena's times, crowded with information on its history, development and how it was used.

Originally published in hardcover


About the Author
Walter M. Spink, Ph.D. (1954), Harvard, is Professor Emeritus, History of Art, at the University of Michigan, Ann Arbor. He has published widely on Indian Art in general, and Ajanta and related sites in particular.
or
Not Currently Available for Direct Purchase