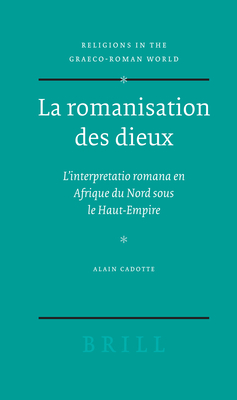 La Romanisation Des Dieux (Hardcover)
L'Interpretatio Romana En Afrique Du Nord Sous Le Haut-Empire (Religions in the Graeco-Roman World #158)
Brill, 9789004152588, 754pp.
Publication Date: November 29, 2006
* Individual store prices may vary.
Description
Heirs to the Punic and Berber traditions, the North Africans, once conquered by the Romans and willing to show respect for their new masters' gods, did not want to forsake their beloved ancestral deities and solved this dilemma by giving Roman names to their traditional gods, who nevertheless kept most of their former natures. This phenomenon, known as interpretatio romana, resulted in an interpenetration of both religious universes, each being enriched in the process.
Roman African gods thus conceal dual personalities within themselves, which this book tries to investigate through all available sources (epigraphy, literature, numismatic and archaeology), unveiling many unsuspected aspects of great deities like Saturn/Baal Hammon, Astarte/Venus or Mercury/Baal Addir.
If those gods of Roman Africa have inspired many individual studies, there was still a need for a book examining them all together within their interrelations. Here is then at last a real global study of the Roman-African pantheon.
***
H ritiers des traditions puniques et berb res, les Nord-africains, l'arriv e du conqu rant romain, voulurent conserver leurs divinit's ancestrales tout en respectant les dieux de leur nouveau ma tre. Ils affubl rent donc de noms romains leurs dieux traditionnels tout en leur conservant l'essentiel de leur personnalit d'origine. Ce ph nom ne, connu sous le terme d', r sulta en une interp n tration des deux univers religieux, qui s'enrichirent ainsi mutuellement.
Les dieux de l'Afrique romaine cachent donc des personnalit's multiples que cet ouvrage tente de d voiler en mettant profit toutes les sources disponibles: pigraphie, litt rature, numismatique et arch ologie. Ces grandes divinit's, telles que Saturne/Baal Hammon, V nus/Astart ou Mercure/Baal Addir livrent ainsi tour tour des aspects insoup onn's de leurs personnalit's.
Si les dieux d'Afrique romaine ont suscit diverses tudes individuelles, il manquait encore un ouvrage qui les examinerait tous ensemble et dans leurs rapports entre eux. Voici donc enfin une v ritable tude globale du panth on romano-africain.
or
Not Currently Available for Direct Purchase