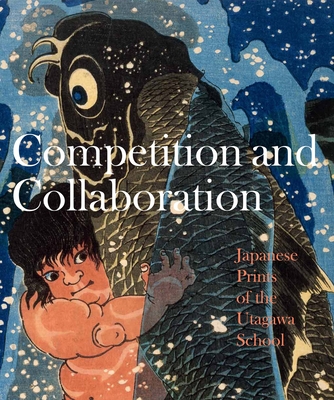 Competition and Collaboration (Hardcover)
Japanese Prints of the Utagawa School
Hotei Publishing, 9789004155398, 231pp.
Publication Date: November 1, 2007
* Individual store prices may vary.
Description
The prolific Utagawa school is one of the most famous lineages of print artists in the history of Japanese woodblock prints. It was founded by Utagawa Toyoharu during the second half of the eighteenth century and remained active in Edo, present-day Tokyo, throughout the nineteenth century. During this period, Utagawa-school artists dominated virtually every genre of ukiyo-e prints, or "pictures of the floating world," including pictures of beautiful women, prints of kabuki actors, warrior prints, erotica, and landscape pictures. Colorful, technically innovative, and sometimes defiant of government regulations, these prints documented for a popular audience the pleasures of urban life, leisure, and travel. The diverse works by Utagawa Kunisada, Utagawa Kuniyoshi, Utagawa Hiroshige, and others reflected the changing social, economic, and political conditions present during the closing century of the Edo period (1615-1868) and early years of the Meiji period (1868-1912).
This 232-page groundbreaking catalogue features full-color images of more than 200 prints from the renowned Van Vleck Collection of Japanese Prints at the Chazen Museum of Art, University of Wisconsin-Madison. This collection - a number of which were once part of Frank Lloyd Wright's personal collection of Japanese prints - is particularly noteworthy for its strong holdings of landscape prints including rare designs incorporating western perspective by the school's founder Toyoharu. The book includes explicated entries for each work, artist biographies, and five scholarly essays about Japanese print culture and the Utagawa school.

About the Author
Laura J. Mueller, guest curator for the exhibition Competition and Collaboration: Japanese Prints of the Utagawa School at the Chazen Museum of Art, and doctoral candidate in Japanese art history at the University of Wisconsin-Madison specializing in the study and research of Japanese woodblock prints. She is author of Strong Women, Beautiful Men: Japanese Portrait Prints from the Toledo Museum of Art (2005).Fujisawa Akane, lecturer of Japanese literature at Gakushūin University inTokyo. She published Ukiyo-e of the Utagawa School and the Edo PublishingWorld: Kabuki Actor Prints (2001).Kobayashi Tadashi, professor of Japanese art history at Gakushūin University inTokyo and director of the Chiba City Museum of Art. His recent publications include Masterpieces of Landscape: Ukiyo-e Prints from the Honolulu Academy of Arts (2003) and Suzuki Harunobu (2002).Ellis Tinios, honorary lecturer in the School of History, University of Leeds; research associate at the Japan Research Centre, School of Oriental and African Studies, University of London; and special assistant to the Japanese Section of the Department of Asia, British Museum. He is the author of Mirror of the Stage: The Actor Prints of Kunisada (1996), and On the Margins of the City: Recreation on the Periphery of Edo (with Paul Waley, 1999).
or
Not Currently Available for Direct Purchase