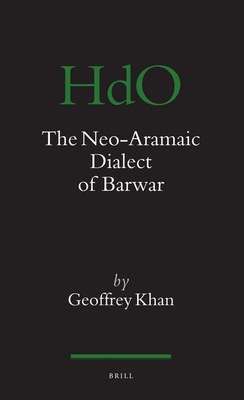 The Neo-Aramaic Dialect of Barwar (Handbook of Oriental Studies (Hardcover)
Section 1; The Near and Middle East #96)
Brill, 9789004167650, 1068pp.
Publication Date: October 16, 2008
* Individual store prices may vary.
Description
The Aramaic language has continued to be spoken in various dialects down to modern times. Many of these dialects, however, are now endangered due to political events in the Middle East over the last hundred years. This work, in three volumes, presents a description of one such endangered neo-Aramaic dialect, that of the Assyrian Christian community of the Barwar region in northern Iraq. It is a unique record of the dialect based on interviews with the surviving older generation of the community. Volume one contains a detailed grammatical description of the dialect, including sections on phonology, morphology and syntax. Volume two contains an extensive glossary of the lexicon of the dialect with illustrations of various aspects of the material culture. Volume three contains transcriptions of numerous recorded texts, including folktales, ethnographic texts, songs, and proverbs.
About the Author
Geoffrey Khan, Ph.D. (1984) in Semitic languages, School of Oriental and African Studies, London, is professor of Semitic Philology at the University of Cambridge. He was awarded the Lidzbarski Gold Medal for Semitic Philology in 2004. His extensive publications in the field include full grammars of the neo-Aramaic dialects of Arbel, Qaraqosh and Suleimaniyya.
or
Not Currently Available for Direct Purchase