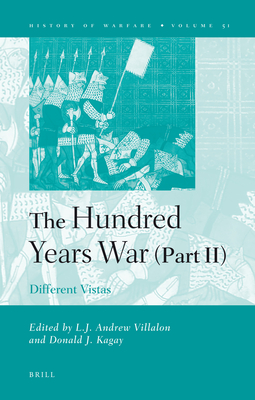 The Hundred Years War (Part II)
Different Vistas (History of Warfare (Brill) #51)
Hardcover

* Individual store prices may vary.
Description
This book takes a fresh look at the Hundred Years War by gathering the latest scholarship on several aspects of the conflict that have not been amply studied before and several that have become "gospel" by numerous scholarly treatments.
The collection focuses on the following subjects: (1) the Hundred Years War as a wide-ranging struggle that effected many European regions, (2) the battle of Agincourt and its political and emotional aftermath, (3) the Iberian theater of war that sprang from the main conflict, (4) the impact of the crossbow and longbow on the great battles of the conflict, (5) great leaders of the war, and (6) economic, literary, and psychological aspects of the conflict.
Contributors are: William P. Caferro, Megan Cassidy Welch, Kelly DeVries, Donald J. Kagay, Ilana Krug, Russell Mitchell, Steven Muhlberger, Clifford J. Rogers, L. B. Ross, Dana Sample, Wendy Turner, Richard Vernier, L. J. Andrew Villalon and David Whetham.

Winner of the 2014 Verbruggen Prize of De Re Militari (the Society for the Study of Medieval Military History) given annually for the best book on medieval military history.
Brill, 9789004168213, 477pp.
Publication Date: August 1, 2008
About the Author
L.J. Andrew Villalon, Ph.D (1984) in History, Yale University is Professor at the University of Texas. He has published extensively on medieval Spain, early-modern sainthood, and World War I. He is the editor of five scholarly collections.Donald J. Kagay, Ph.D. (1981) in Medieval History, Fordham University is Professor at Albany State University. He has published on medieval Spain, legal, and military history. He is the author of two translations and has edited six scholarly collections.
or
Not Currently Available for Direct Purchase