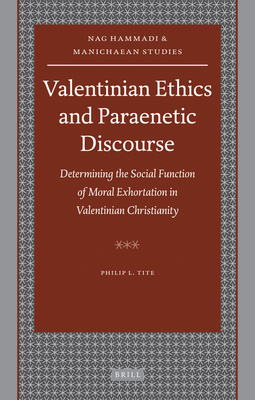 Valentinian Ethics and Paraenetic Discourse (Hardcover)
Determining the Social Function of Moral Exhortation in Valentinian Christianity (Nag Hammadi and Manichaean Studies #67)
Brill, 9789004175075, 368pp.
Publication Date: August 31, 2009
* Individual store prices may vary.
Description
Offering a fresh assessment of the presence and function of paraenesis within Valentinianism, this book places Valentinian moral exhortation within the context of early Christian moral discourse. Like other early Christians, Valentinians were not only interested in ethics, but used moral exhortation to discursively shape social identity. Building on the increasing recognition of ethical and communal concerns reflected in the Nag Hammadi sources, this book advances the discussion by elucidating the social rhetoric within, especially, the Gospel of Truth and the Interpretation of Knowledge. The social function of paraenesis is to persuade an audience through social re-presentation. The authors of these texts discursively position their readers, and themselves, within engaging moments of narrativity. It is hoped that this study will encourage greater integration of research between those working on the Nag Hammadi material and those studying early Christian paraenetic discourse.
About the Author
Philip L. Tite, Ph.D. (2005) in Religious Studies, McGill University, is Visiting Assistant Professor of Religious Studies at Willamette University, Salem Oregon. He is the author of Compositional Transitions in 1 Peter (International Scholars, 1997), Conceiving Peace and Violence (UPA, 2004), and co-editor of Religion, Terror and Violence (Routledge, 2008). His research and teaching center on the social and rhetorical aspects of early Christianity and Gnosticism.
or
Not Currently Available for Direct Purchase