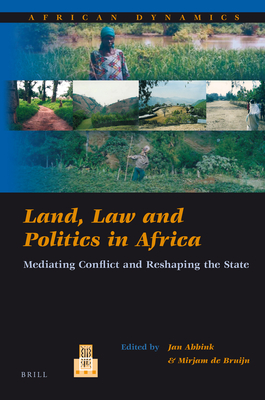 Land, Law and Politics in Africa (Paperback)
Mediating Conflict and Reshaping the State (African Dynamics #10)
Brill, 9789004217386, 386pp.
Publication Date: November 11, 2011
* Individual store prices may vary.
Description
This volume presents a wide selection of studies on the issues of law, land dispute and conflict (mediation) in Africa, reconsidering the role of state agents and other actors in these matters. The focus is on analyzing how citizens, state institutions and concerned (inter)national actors aim to find solutions to disputes, tension and conflict that are part of social life. The authors have approached the subject of Land, Law and Politics in Africa from a variety of disciplinary angles. The issues at stake comprise land access and land use, state politics and democratization efforts, the relationship between constitutional/state law and customary law, the challenges of urban and rural conflicts, border issues and the conceptions of (human) rights. On the basis of new empirical studies, the authors plead for a more holistic perspective on the above issues and on developmental policy in general.
The book has 15 chapters in four thematic parts, focusing on historical and cultural aspects of politics and authority; land law and land disputes; constitutionalism and politics; and conflict studies. The volume is also a tribute to the work of Gerti Hesseling (1946-2009), a Dutch Africanist with a successful career as a scholar of constitutional and land law, focusing on West Africa.

About the Author
Jan Abbink works as a senior researcher at the African Studies Centre, Leiden, and as a research professor at VU University, Amsterdam. His interests are political anthropology, ethno-history, and culture and religion in the Horn of Africa (Ethiopia, Somalia). Current research projects are on Ethiopian regional history and livelihoods, the rhetoric and practice of 'development', and religion and community formation in Northeast Africa.Mirjam de Bruijn is an anthropologist and senior researcher at the African Studies Centre, Leiden, Professor of African Studies (Contemporary History and Anthropology of West and Central Africa) at Leiden University and director of the Research Masters in African Studies at the ASC. Her research has developed around the theme of mobility and she has done extensive fieldwork in Chad, Mali and Cameroon on (interdisciplinary) projects on migration, conflict and poverty, and mobility and communication technology.
or
Not Currently Available for Direct Purchase