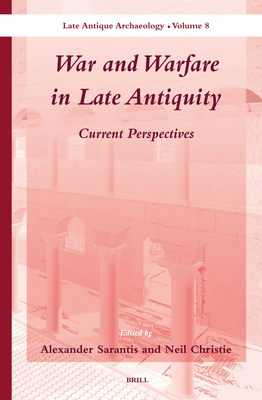 War and Warfare in Late Antiquity (2 Vols.)
Current Perspectives (Late Antique Archaeology #8)
Hardcover

* Individual store prices may vary.
Description
This two-volume publication explores the key factors determining the course and outcome of war in Late Antiquity. Volume 8.1 includes a detailed review of strategic and tactical issues and eight comprehensive bibliographic essays, which provide an overview of the literature. In Volume 8.2, thematic papers examine strategy and intelligence, fortifications and siege warfare, weaponry and equipment, literary sources and topography, and civil war, while papers focused on particular geographic regions home in on war and warfare in the West Roman Empire in the 4th and 5th centuries, and the Balkans and the Eastern frontier in the 4th to 7th centuries AD.
Contributors are Susannah Belcher, Neil Christie, Ian Colvin, John Conyard, Jon Coulston, Jim Crow, Florin Curta, Hugh Elton, James Howard-Johnston, Jordi Galbany, Jordi Gu rdia, John Haldon, Michel Kazanski, Maria Kouroumali, Michael Kulikowski, Christopher Lillington-Martin, Marta Maragall, Oriol Mercadal, Jordi Nadal, Oriol Olesti, Alexander Sarantis, Conor Whately, Michael Whitby and John Wilkes.
Brill, 9789004252578, 1094pp.
Publication Date: August 23, 2013
About the Author
Alexander Sarantis, D.Phil (2006), University of Oxford, is Honorary Research Fellow of the Centre for Late Antique Archaeology and Associate Lecturer at the Department of Classical and Archaeological Studies, University of Kent. He has authored articles on the Gepids, the Heruls and A.H.M. Jones. His forthcoming monograph looks at The Balkans during the Reign of Justinian.Neil Christie, Ph.D. (1985), University of Newcastle-Upon-Tyne, is Reader in Archaeology at the School of Archaeology and Ancient History, University of Leicester, UK. He is the author of various works on Late Roman and Early Medieval Italy, a recent monograph on The Fall of the Western Roman Empire, and editor and co-editor to works on late antique towns and landscapes.
or
Not Currently Available for Direct Purchase