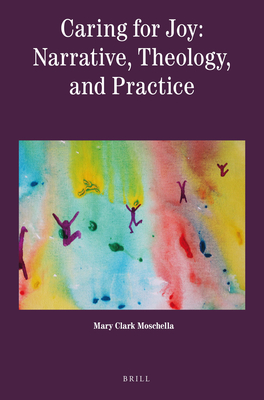 Caring for Joy
Narrative, Theology, and Practice (Theology in Practice #1)
Paperback

* Individual store prices may vary.
Description
In Caring for Joy: Narrative, Theology, and Practice Mary Clark Moschella offers a new account of the value of joy in caregiving vocations, demonstrating how the work of caring for persons, communities, and the world need not be a dreary endeavor overwhelmed by crises or undermined by despair. Moschella presents glimpses of joy-in-action in the narratives of five notable figures: Heidi Neumark, Henri Nouwen, Gregory Boyle, Pauli Murray, and Paul Farmer, gleaning their wisdom for the construction of a theology of joy that embodies compassion, connection, justice, and freedom. Care must be deep enough to hold human suffering and spacious enough to take in the divine goodness, beauty, and love. This book expands the pastoral theological imagination and narrates joy-full approaches to transformational care.

"This work is a scholarly, engaging and compassionate call to reconsider the significance of joyful living and joyful lives in radical pastoral theology."
-- Heather Walton, University of Glasgow, President of the International Academy of Practical Theology, July 2016.

"Based on biographies, interviews, and life stories, Mary Clark Moschella presents joy as a counter-cultural emotion, as a spiritual path, and as a fruit of the Spirit. In her research, joy and reason are not ultimately opposed."
-- Jeanne Stevenson-Moessner, Professor of Pastoral Care, Perkins School of Theology, Southern Methodist University, July 2016.

"This highly readable and compelling theology of joy will inspire you to explore how joy might energize your vocation, especially caregiving vocations that use narrative approaches to spiritual care and pastoral counseling. I plan on using this book as a textbook in my theodicy, grief, death and dying, and vocational courses."
-- Carrie Doehring, Professor of Pastoral Care and Counseling, Iliff School of Theology, Denver, August 2016

"Mary Moschella has given us a rare text, one that is theologically rich, intellectually sophisticated, drenched in pastoral wisdom, and beautifully written. She gives us a pastoral theology attuned to the realities of diversity and sensitive to the complex challenges facing those who lives constantly interface with suffering. There is simply nothing else like this book in pastoral care."
-- Willie James Jennings, Professor of Systematic Theology and Africana Studies, Yale University, August 2016.
Brill, 9789004324992, 304pp.
Publication Date: September 15, 2016
About the Author
Mary Clark Moschella is the Roger J. Squire Professor of Pastoral Care and Counseling at Yale Divinity School. She is the author of Ethnography as a Pastoral Practice: An Introduction, and many other publications in pastoral and practical theology.
or
Not Currently Available for Direct Purchase