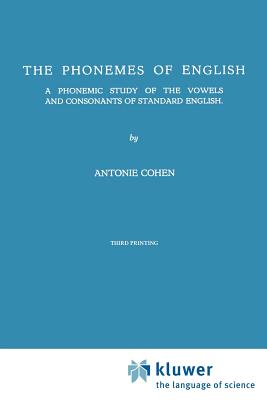 The Phonemes of English (Paperback)
A Phonemic Study of the Vowels and Consonants of Standard English
Springer, 9789024706396, 130pp.
Publication Date: July 31, 1971
* Individual store prices may vary.
Description
I gladly take this opportunity to convey my heartfelt thanks to those who have guided me on my way as an undergraduate and who have enabled me through their teachings and friendly advice to proceed to preparing for this doctorate thesis. I should like first of all to thank Prof. C. L. Wrenn, M. A., now of Pembroke College, Oxford, who has always been extremely helpful to me and who was generous enough to admit me to the Honours English Course at King's College, University of London. After moving to Oxford he still found time to show interest in my progress and on more than one occasion helped me with his wise counsels. I am also extremely grateful to his successor at King's College, Prof. G .. Bullough, M. A., who likewhise helped me whenever he could. I feel greatly indebted to Prof. D. Jones, M. A., Dr. Phil., who at the time was Professor of Phonetics at University College, London, and from whose lectures and methods of expression I greatly benefited. I am particularly thankful for the kindness shown to me by the staffs of the English department of King's College and of the Phonetics department of University College for the excellent tuition I received from them and for making me feel completely at home among my English fellow students. I am happy to acknowledge the generosity with which Prof. Dr. P. N. U.