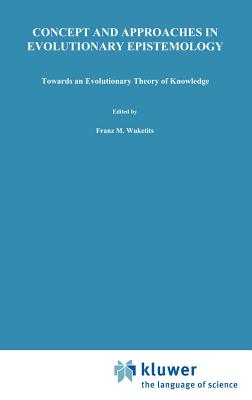 Concepts and Approaches in Evolutionary Epistemology
Towards an Evolutionary Theory of Knowledge (Theory and Decision Library #36)
Hardcover

* Individual store prices may vary.
Other Editions of This Title:
Paperback (11/12/2011)
Description
The present volume brings together current interdisciplinary research which adds up to an evolutionary theory of human knowledge, Le. evolutionary epistemology. It comprises ten papers, dealing with the basic concepts, approaches and data in evolutionary epistemology and discussing some of their most important consequences. Because I am convinced that criticism, if not confused with mere polemics, is apt to stimulate the maturation of a scientific or philosophical theory, I invited Reinhard Low to present his critical view of evolutionary epistemology and to indicate some limits of our evolutionary conceptions. The main purpose of this book is to meet the urgent need of both science and philosophy for a comprehensive up-to-date approach to the problem of knowledge, going beyond the traditional disciplinary boundaries of scientific and philosophical thought. Evolutionary epistemology has emerged as a naturalistic and science-oriented view of knowledge taking cognizance of, and compatible with, results of biological, psychological, anthropological and linguistic inquiries concerning the structure and development of man's cognitive apparatus. Thus, evolutionary epistemology serves as a frame- work for many contemporary discussions of the age-old problem of human knowledge.
Springer, 9789027715777, 322pp.
Publication Date: December 31, 1983