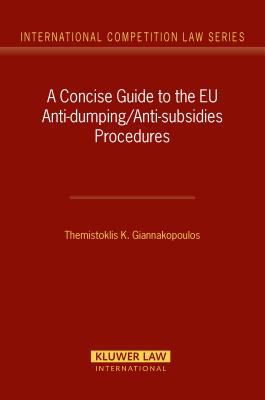 A Concise Guide to the Anti-Dumping/Anti-Subsidies Procedures (International Competition Law #23) (Hardcover)
Kluwer Law International, 9789041124647, 231pp.
Publication Date: July 1, 2008
* Individual store prices may vary.
Description
Unfair trading practices such as dumping and the granting of subsidies have long been identified as threats to open markets. Yet despite decades of international trading rules, global markets are still jeopardized by practices which can cause material injury to industries and put employment at risk. The European Union has been a leader in its determination to ensure that its industries are not disadvantaged by such practices, that Community interests are defended, and that fair competition is restored where needed. The basic texts which form the legal basis of anti-dumping and anti-subsidy investigations in the Community entered into force in 1996 and 1997. The procedures developed in these texts, as amended, and in their corresponding regulations, are the subject of this extremely helpful guide. Practitioners who must follow these often complex procedures will find precise guidelines for the substantive determinations that must be made such as calculating the material injury, determining the cause of injury, and applying the Community interest test and then be able to move confidently through every procedural step, including the following:
Initial complaint
Questionnaires Confrontation meetings and oral hearings Investigations by Commission official; Offer and acceptance /rejection of undetaking; Commenting on the Commission's provisional decision Requesting review of measures and refunds and Judicial review
Throughout the presentation the author describes relevant cases and actual measures taken. Tables of cases and measures as well as a bibliography are included. Business people and their counsel, whether engaged in trade within the EU or between any country and an EU Member State, will benefit enormously from the detailed guidance offered in this incomparable volume. The book will also be invaluable to academics and policymakers as an unclouded analysis of anti-dumping/anti-subsidies procedures under EC law.