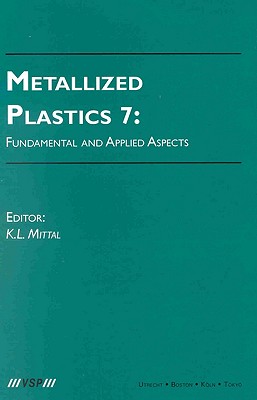 Metallized Plastics 7 (Hardcover)
Fundamental and Applied Aspects
CRC Press, 9789067643405, 306pp.
Publication Date: May 9, 2001
* Individual store prices may vary.
Description
This volume documents the proceedings of the 7th Symposium on Metallized Plastics: Fundamental and Applied Aspects, held in Newark, New Jersey, December 2-3, 1999. This volume contains a total of 16 papers, which were all rigorously peer reviewed and suitably revised before inclusion. The book is divided into two parts: Metallization Techniques and Properties of Metal Deposits, and Interfacial and Adhesion Aspects. The topics covered include: various metallization techniques for a variety of plastics including some novel developments involving suitable plastic pretreatments; modification of polymers by plasma and ion-assisted reactions; metal doped plasma polymer films; metal-polyimide nanocomposite films; investigation of metal/polymer interactions by a variety of techniques; ways to improve adhesion of metal/polymer systems; modeling of metal/polymer interfaces; application of surface analytical techniques in the arena of metallized plastics; and ultrathin films on metal surfaces. This volume offers a wealth of information and represents current commentary on the R&D activity taking place in the technologically highly important field of metallized plastics and is of value and interest to anyone interested in the fundamental or applied aspects of metallized plastics.
or
Not Currently Available for Direct Purchase