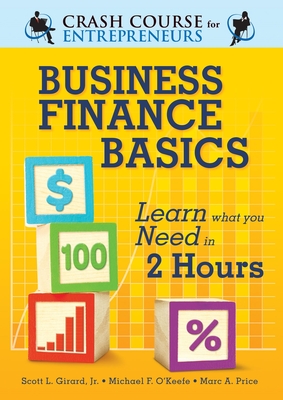 Business Finance Basics
Learn What You Need in 2 Hours (Crash Course for Entrepreneurs)
Paperback

* Individual store prices may vary.
Description
Between 40 and 70 percent of start-up businesses fail in their first four years, mostly because of money problems. Even growth can kill you Unlike many other business finance books, this one shows you how to recognize if you need outside help-- getting funding, planning cash flow, growing a business, controlling costs, avoiding pitfalls, running day-to-day finances, using accountants and software tools, and more. But it also sets you up to successfully do the things you can do yourself. Each of the books in the Crash Course for Entrepreneurs series offers a high-level overview of the critical things you need to know and do if you want to survive and thrive in our super-competitive world. Of course, there's much more to learn about each topic, but what you'll read here will give you the framework for learning the rest. Between them, Marc A. Price, Michael F. O'Keefe, and Scott L. Girard, Jr. have successfully started 17 companies in a wide variety of fields. Scott was formerly executive vice president of Pinpoint Holdings Group, Inc. Mike founded O'Keefe Motor Sports in 2004 and grew it into the largest database of aftermarket automotive components in the world. Marc has launched seven companies of his own and collaborated with the Federal government, U.S. military, and major nonprofits and corporations.
Nova Vista, 9789077256404, 189pp.
Publication Date: March 24, 2014
About the Author
Prior to becoming director of operations at Expert Business Advice, LLC, Marc Price collaborated with the federal government, United States military, major nonprofit organizations, and some of the largest corporations in America, developing and implementing new products, services, and educational programs. Mike O'Keefe is CEO at Expert Business Advice, LLC, president of Pinpoint Holdings Group, Inc., and vice president of marketing for Bracemasters International, LLC. At Pinpoint, Mike's focus is building a strong base for understanding the global marketplace. Mike's passion and talents for cutting-edge business techniques and practices have led to the exponential growth of Bracemasters. Before joining Expert Business Advice as editor-in-chief, Scott Girard, Jr. was executive vice president of Pinpoint Holdings Group, Inc., where he directed multiple marketing and advertising initiatives. His vision and work were also pivotal in the growth and development of Bracemasters International, LLC. Scott has degrees in business administration and English writing and is a published contributor to various periodicals on the topics of economics and politics.
or
Not Currently Available for Direct Purchase