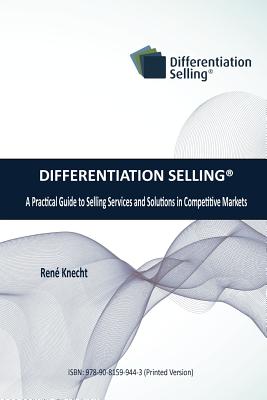 Differentiation Selling: A Practical Guide to Selling Services and Solutions in Competitive Markets (Paperback)
A Practical Guide to Selling Services and Solutions in Competitive Markets
Rene Knecht, 9789081599443, 88pp.
Publication Date: August 12, 2012
About the Author
Just like you, I am doing business in an market with much competition and where it becomes more and more difficult to distinguish yourself. Customers no longer believe in solutions and are looking instead for a supplier. They take actively control over their purchase processes. Your biggest competitor then becomes the status quo or 'no change'. For this reason, I abandoned the technique of selling solutions, and I continued searching for ways to nevertheless distinguish myself and close deals. This has succeeded, and I have made my sales processes transmissible. Even more: I have discovered how I can sell solutions and services again. I escaped the commodity trap. This shift in thinking has already helped many salesmen to lead deals more assertively and obtain faster results. Rene Knecht gained a master's degree in Commercial Engineering from the Vrije Universiteit Brussel (University of Brussels, Belgium) and quickly excelled in sales. In 1999, he switched to HR consultancy in recruitment and training, which, in 2005, led to the incorporation of his company, ICT-Connecting: a specialist direct search agency for ICT and sales roles. Rene developed the Differentiation Selling concept in 2009. The concept is based on best practices in sales, negotiation, change management, conflict management, and interviews with over 1500 sales and account managers since 1999."
Advertisement