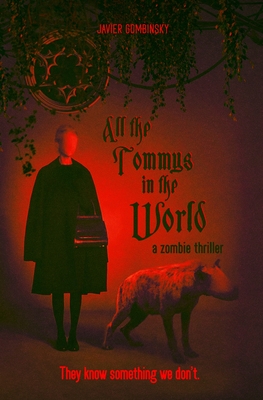 All the Tommys in the World
A zombie thriller
Paperback

* Individual store prices may vary.
Description
They know something we don't.

For horror Youtubers Lilith and Nate, zombie movies are escapist fantasies. So when a real zombie uprising in the streets of New Southport is easily thwarted, they know these familiar-looking ghouls are hiding something. And as things start to look more and more like Lilith's apocalyptic visions, and as a darker threat lurks, it'll be up to them to piece the puzzle before everyone they love faces a fate worse than becoming a zombie.

Can they be stopped? Are they just playing dead? Do they have a plan?

They know something we don't. And whatever it is, they hate us for it.
Praise For All the Tommys in the World: A zombie thriller…
"...A terrific writer..." —Richard Marek, editor of The Silence of the Lambs and bestselling author

"Javier Gombinsky's fast-paced 'All the Tommys in the World' is akin to an undead ouroboros in mid-molt — just when you think you've got a grip on it, this serpentine narrative sheds its skin and becomes something altogether more frightening and unforgettable." —Clay McLeod Chapman, author of Whisper Down the Lane

"An Excellent apocalyptic novel where all the condiments of the zombie genre converge and meet at a cemetery... the cemetery of Chacarita, an icon of Buenos Aires that inspired this great author." —Hernán Santiago Vizzari, Investigator and historian. Distinguished Person of Culture of the City of Buenos Aires.

"A sharp, entertaining zombie epic that gleefully defies expectations." —Kirkus Reviews

"...this genre-bending mystery keeps its audience and characters guessing, keeping the suspense alive throughout..." —BookLife Reviews
Pigfarm Press, 9789083128504, 552pp.
Publication Date: August 17, 2021
About the Author
Javier Gombinsky was born in Buenos Aires, Argentina, in the neighborhood of Chacarita, the real-life inspiration for the town of Leatelranch in his novel All the Tommys in the World. His love of horror started with Argentinian children's books by Elsa Bornemann. Then came The Twilight Zone, Tales from the Crypt, Freddy Krueger, and finally zombies with the greatest zombie movie ever made: Return of the Living Dead. Since then, he's been consuming all things horror and zombies, and keeping a list in the back of his mind about all the things he wanted to happen, but didn't. He's now in the business of turning that into books.