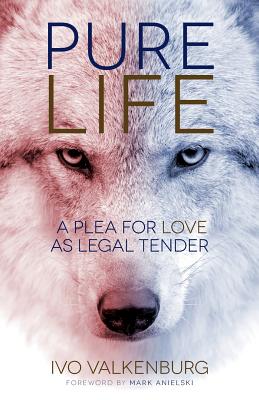 Pure Life (Paperback)
A Plea for Love as Legal Tender
Valkenburg Bv, 9789090298931, 274pp.
Publication Date: February 17, 2017
* Individual store prices may vary.
Description
There are two wolves inside of you
The wolf of personality and the wolf of Infinite love
Which one will win?
The one you feed
More and more people dare to trust the power of love in all aspects of life, without judgement or expectations. They share one dream: to be restored back to their original state of being, freed from all illusions and lack of freedom. They are the movers and shakers who are creating a new society where love becomes the legal tender. They are heart people who seek win-win in heart economics. They include superconscious business people, scientists, journalists, doctors, teachers, lawyers, politicians, bankers and many others. They are people forging organizations with the fire of Love, inspired by the Force of Life moving them toward a next step in human consciousness.
'Pure Life is a choice and it's time to make it
- Paul Efmorfidis, CEO/Founder of COCO-MAT

'Ivo Valkenburg (Netherlands, 1966) brings the world an important antidote to a global pandemic of debt money enslavement and trauma. Thank goodness that he did not despair over his financial problems and leave this earth, but instead chose to stay with us with a renewed passion for LOVE and a reminder that we all can and must pursue a pure life.'
- Mark Anielski, Author, The Economics of Happiness: Building Genuine Wealth
About the Author
Ivo Valkenburg (Netherlands, 1966) stands for the enabling of an economy of well-being and happiness. He engages with substantial renewal of classical thought models and its practical applications. In doing so, he just looks beyond the material side of life. He considers that man again should correspond to the original state of being, which one carries in within, as the highest ideal. He views that the love (heart and soul) and wisdom (mind and spirit) are the key ingredients to realize this ideal step by step. Ivo is active for 30 years in business. His focus is on (1) to make visible how beautiful our society can be, (2) assisting companies and institutions to work from Infinite love, (3) helping people to experience the power of the heart and to integrate it into everyday life, (4) writing books and articles, and (5) giving lectures and talks about love in action.
Praise For Pure Life: A Plea for Love as Legal Tender…
'Pure Life is a choice and it's time to make it! - Paul Efmorfidis, CEO/Founder of COCO-MAT

'Ivo Valkenburg (Netherlands, 1966) brings the world an important antidote to a global pandemic of debt money enslavement and trauma. Thank goodness that he did not despair over his financial problems and leave this earth, but instead chose to stay with us with a renewed passion for LOVE and a reminder that we all can and must pursue a pure life.' - Mark Anielski, Author, The Economics of Happiness: Building Genuine Wealth

'That's right; we're talking too much about money and too little about love. Our friend Ivo Valkenburg combined both in his book Spirit in Finance. Very worth reading.' Willem Middelkoop, bestseller author of The Big Reset: War on Gold and the Financial Endgame, journalist, entrepreneur & fund manager