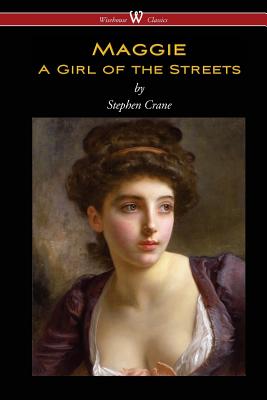 Maggie
A Girl of the Streets (Wisehouse Classics Edition)
Paperback

* Individual store prices may vary.
Other Editions of This Title:
Paperback (2/6/2015)
Paperback (2/25/2020)
Paperback (8/8/2020)
Paperback (4/14/2020)
Paperback (4/14/2020)
Paperback (2/25/2020)
Paperback (3/2/2020)
Paperback, Large Print (1/2/2014)
Paperback (8/24/2012)
Paperback (11/19/2018)
Paperback (4/24/2019)
Paperback (3/19/2019)
Paperback (5/9/2015)
Paperback (4/9/2020)
Paperback (8/12/2018)
Description
MAGGIE: A GIRL OF THE STREETS is an 1893 novella by American author Stephen Crane (1871-1900). The story centers on Maggie, a young girl from the Bowery who is driven to unfortunate circumstances by poverty and solitude. The work was considered risqu by publishers because of its literary realism and strong themes. Crane - who was 22 years old at the time - financed the book's publication himself, although the original 1893 edition was printed under the pseudonym Johnston Smith. After the success of 1895's The Red Badge of Courage, Maggie was reissued in 1896 with considerable changes and re-writing. The story is followed by George's Mother. MAGGIE was published during the time of industrialization. The United States, a country shaped by agriculture in the 19th century, became an industrialized nation in the late 1800s. Moreover, "an unprecedented influx of immigrants contributed to a boom in population," created bigger cities and a new consumer society. By these developments, progress was linked with poverty, illustrating that the majority of the US population was skeptical about the dependency on the fluctuation of global economy. MAGGIE is "regarded as the first work of unalloyed naturalism in American fiction."-Milne Holton. According to the naturalistic principles, a character is set into a world where there is no escape from one's biological heredity. Additionally, the circumstances in which a person finds oneself will dominate one's behavior, depriving the individual of responsibility. Although Stephen Crane denied any influence by mile Zola, the creator of Naturalism, on his work, examples in his texts indicate that this American author was inspired by French naturalism.
Wisehouse Classics, 9789176370483, 46pp.
Publication Date: October 27, 2015