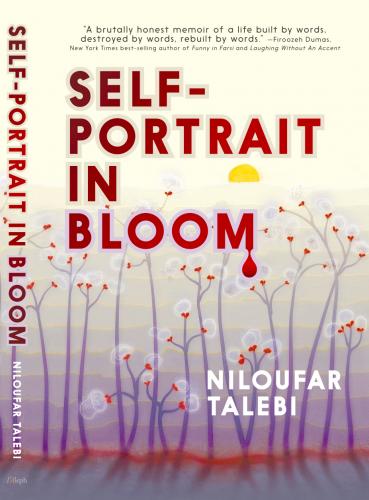 Self-Portrait in Bloom
Paperback

* Individual store prices may vary.
Description
In the aftermath of World War II, "a new dynamism" was taking shape in Persian poetry. Awardwinning translator Niloufar Talebi explains how Iranian poets were increasingly instrumental in
"freeing Persian poetry from the state of decline and stagnation." Into this backdrop emerges the
poet Ahmad Shamlou in this part-memoir, part-biography, and part-history of literature in Iran.
"There are two books in this book, one portrait of me and one of Ahmad Shamlou. And they
intersect," Talebi writes of Self-Portrait in Bloom. Released in the 40th anniversary year of the
Iranian revolution, it delves deep into culture, personal history, and pays homage to Tehran, the
city of Talebi's childhood. Told in fragments of prose, poetry, and photographs, this lyrical
exploration reimagines the memoir form and in a dramatic climax sets free the details of a hurt
that can no longer limit the blossoming of an artist.

Praise For Self-Portrait in Bloom…
"Self-Portrait in Bloom recounts the stories of poets, revolutions, women, and censorship. A
celebration of the recreative power of memory and language, from the girl standing in front of
her blue bedroom window watching snow, to the many lessons of silence—Talebi's 'animal with
two faces.' It is a book of longing, haunted by history."
—Ilya Kaminsky, author of Deaf Republic and Dancing in Odessa
"A brutally honest memoir of a life built by words, destroyed by words, rebuilt by words."
—Firoozeh Dumas, New York Times Bestselling Author of Funny in Farsi and Laughing
Without An Accent. "Niloufar Talebi offers a lyrical evocation of an Iranian childhood, of a girl growing into
complicated maturity as an artist while bringing to life the great Iranian poet Ahmad Shamlou,
whose art became intertwined with her own. For these achievements alone, her book would be
well worth reading. But Talebi is after bigger game. Step by step, she lures us into a profound
meditation on the power of poetry, the politics of language, and the art of translation—and then
into the shocking spectacle of an artist stifled. This memoir is not just poignant, it's wrenching." —Tamim Ansary, author of West of Kabul, East of New York, and Games Without Rules
"Niloufar Talebi has written an original and intriguing memoir. Dispensing with linearity,
shuttling between her Iranian childhood and her American coming of age, she moves nimbly up
and back along the space-time axis. A loving and contemplative spirit compels these pages
forward."
—Sven Birkerts, author of Changing the Subject: Art and Attention in the Internet Age
"Niloufar Talebi's superb translations of Ahmad Shamlou's poetry convey a deep mastery and
love of the immortal poet's texts, and are a major contribution in presenting Shamlou's literary
greatness for Western readers. These translations are a work of love."
—Nahid Mozaffari, editor, Strange Times My Dear: The PEN Anthology of Contemporary
Iranian Literature
L'Aleph, 9789176375631, 258pp.
Publication Date: March 28, 2019
About the Author
Niloufar Talebi is an author, award-winning translator, and creator. Her work has been featured
at the Kennedy Center, and the Brooklyn Academy of Music, and she has received commissions
from Carnegie Hall, Cal Performances, and the Atlanta Symphony Orchestra. Her books and
projects include Belonging, Epiphany, The Persian Rite of Spring, ICARUS/RISE, and Abraham
in Flames opera. Her work has been published in World Literature Today, PBS Frontline,
Rattapallax, and Poetry International. Her TEDxBerkeley talk is on Translation and
(In)Visibility.