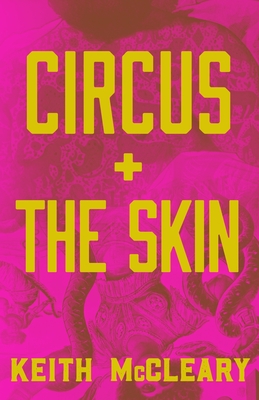 Circus + The Skin (Paperback)
Kraken Press, 9789197972529, 251pp.
Publication Date: December 3, 2018
* Individual store prices may vary.
Description
When a circus caravan is torn apart by a destructive summer storm, the show's tattooed man and his fellow performers are scattered across the wheat fields of a nameless hamlet. The tempest's survivors convene at a local boarding house, but a series of violent attacks and strange deaths sabotage their attempts to regroup.

The show's tattooed man is Sue, a middle-aged, world-weary war veteran whose days are haunted by dark memories. At night his inks call to him, seemingly alive. As the circus strains to stay the course, Sue's sense of reality begins to fragment -- and something reaches for him from the recesses of his past.
About the Author
Keith McCleary is a writer and graphic designer from New York. He is the author of the graphic novels Killing Tree Quarterly and Top of the Heap (Terminal Press), as well as the co-author, with Sophia Starmack, of the audio novella The Gothickers (CCLaP). His work has appeared in Heavy Metal, A capella Zoo, and Weave, and he is co-editor of the States of Terror horror anthology series from Ayahausca Publishing. He is also the Comics Curator at Entropy. Keith holds an MFA from UC San Diego, where he teaches on composition and comics. His first novel, Circus+The Skin, was published in December 2018 by Kraken Press.
Praise For Circus + The Skin…
"Keith McCleary writes like a hard-boiled Nick Cave, while the wandering spirits of Harry Crews and Katherine Dunn look on in grim whimsy. His fast-paced yet character-driven tale of geeks and lion-tamers, bendable women and sinister showmen, and an illustrated man named Sue who can never outrun his past--or his present--never flags. CIRCUS+THE SKIN is a high-wire act of the tender, the fierce, and the deeply macabre."

--Adrian Van Young, author of Shadows in Summerland and The Man Who Noticed Everything


"An unflinching and lyrical tale of a circus at the end of an era and an illustrated man whose tattoos whisper beneath his skin. McCleary's prose is as a fever dream told by Ray Bradbury to Cormac McCarthy--a love letter in blood and ink mapping our collective journey from Vietnam to Coney Island toward an American doom from which escape is just another word for nothing left to lose. An impressive and unsettling debut."

--JS Breukelaar, author of Aletheia and American Monster


"Step right up and take a gander at one of the strangest circus acts ever assembled. Keith McCleary writes with the brutality of a sledgehammer and the precision of a high-wire artist. The America he conjures up in this unforgettable carny noir is old and riddled with darkness. With style for days and prose that sings on the page, CIRCUS+THE SKIN is a show you don't want to miss."

--Jim Ruland, author of Forest of Fortune


"In the shadow of Ray Bradbury's The Illustrated Man, Keith McCleary has sketched his own unique dark imagery with CIRCUS+THE SKIN. A circus without heart would just be an accident on the side of the road--nothing but gawking, fear, and a momentary spectacle. But this novel does much more than that. Filled with passion, death, mystery, and wonder, this is a powerful tale that sprinkles horror, noir, and the grotesque onto a sideshow of the transgressive, creating an original, satisfying journey."

--Richard Thomas, author of Thriller-nominee Breaker
or
Not Currently Available for Direct Purchase