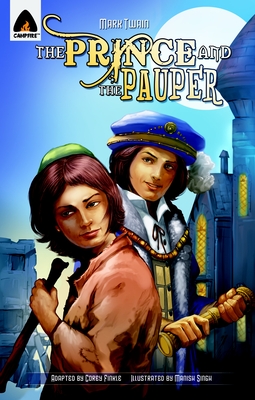 The Prince and the Pauper (Paperback)
Campfire, 9789380028453, 68pp.
Publication Date: January 25, 2011
Description
A chance meeting between a member of the royal family and a street urchin triggers a course of events that form the basis of this enthralling story.
Tom, the pauper; and Edward, the prince, discover that not only do they share the same birthday, but they also look identical. Being the boys that they are, they decide to have some fun and exchange clothes. However, little do they know that this will land them up in the most bizarre of situations.
Inadvertently, the boys end up swapping places with each other - Tom becomes the prince; and Edward, the pauper. No one believes them when they try to explain their true identities, so they are forced to adapt to their new lifestyles, with very interesting consequences.
This well-loved novel by Mark Twain takes a humorous look at 16th century society, and the inequalities that existed at that time, and perhaps still do today.
About the Author
Samuel Langhorne Clemans, known to most as Mark Twain, has been hailed by many as the father of American Literature. Twain was born in Florida, Missouri on 30th November 1835. He grew up in the town of Hannibal on the Mississippi River, which would eventually serve as the basis for the place where Tom Sawyer and Huckleberry Finn would live. Twain grew up in Missouri at a time when it was a slave state. After the American Civil War broke out, he became a strong supporter of emancipation, and staunchly believed that the slave trade should be abolished.
Praise For The Prince and the Pauper…
"I highly recommend Campfire's comics. They do what they are intended to do and do it in  a way that excites kids about classic literature."

— Chris Wilson, The Graphic Classroom (a resource for teachers and librarians)
Advertisement