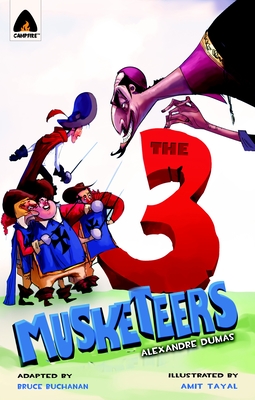 The Three Musketeers: The Graphic Novel (Paperback)
The Graphic Novel
Campfire, 9789380028576, 100pp.
Publication Date: April 26, 2011
Description
Young D'Artagnan has only one ambition, to be a King's Musketeer some day. With this dream he arrives in Paris. Monsieur de Treville, however, makes him a member of the King's Guards, and promises that if he proves his worth he can become a Musketeer one day. Meanwhile D'Artagnan befriends Athos, Porthos and Aramis, three Musketeers, and also falls in love with the beautiful Constance Bonacieux. She is Queen Anne of France's linen maid. Queen Anne of France presents her diamond studs to the Duke of Buckingham, her secret lover. The King, Louise XIII, suddenly announces a ball where he wants the Queen to wear his gift, the diamonds studs. Madame Constance then seeks D'Artagnan's help in getting the diamonds back to the Queen. With the wicked Cardinal and his men chasing him, will D'Artagnan be able to save the Queen's honour? Will he fulfill his dream of becoming a Musketeer?
About the Author
Alexandre Dumas was born on July 24, 1802 in the village of Villers-Cotterets, just outside Paris, France. Dumas first began writing musical comedies and then historical plays in collaboration with a poet friend, Adolphe de Leuven. Influenced by William Shakespeare, Sir Walter Scott, Friedrich von Schiller, and Lord Byron, Dumas wrote his first plays in 1825 and 1826. Henry III and His Court (1829), brought him great success and recognition. By 1851 he had written more than twenty plays. He also began writing fiction at this time, first short stories and then novels. He wrote The Three Musketeers, Twenty Years After, and The Count of Monte Cristo during this period.
Praise For The Three Musketeers: The Graphic Novel…
"Bruce Buchanan did a very good job of abridging a long book without destroying the pace of the story. . . . He did not "dumb down" the plot or the dialogue, which means that this version is best suited to middle school and above, rather than for early readers." — ICv2

"I was taken with the derring-do and humor of the musketeers . . . The artwork  . . . is wonderfully original; taking on a cartoonish aspect with overemphasized facial features on all the characters making the simple-minded, heroic and evil apparent just by their looks. . . . This graphic adaptation has given me a taste and an urge to want to read the original for the first time in my life." — Nicola Manning, Back to Books


"I highly recommend Campfire's comics. They do what they are intended to do and do it in  a way that excites kids about classic literature."

— Chris Wilson, The Graphic Classroom (a resource for teachers and librarians)
Advertisement