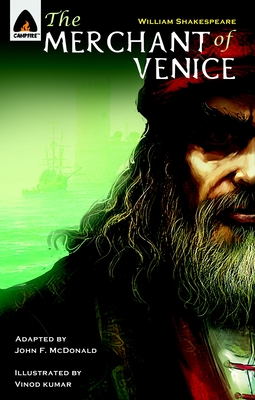 The Merchant of Venice (Paperback)
Campfire, 9789380028590, 76pp.
Publication Date: May 24, 2011
Description
A gamble on trading ships at sea, a pound of flesh as the penalty, a contest to win the hand of a rich heiress, and the final rescue in a court of law--The Merchant of Venice has all the ingredients required which make it one of Shakespeare's most dramatic romantic comedies. Antonio is the merchant of Venice who borrows money to help his friend Bassanio win Portia in marriage. He borrows the money from Shylock, a shrewd moneylender who devises a retribution unprecedented in the annals of law... ...till a young lawyer defeats him in his own game. Who is this young lawyer? What is the clinching argument? The Merchant of Venice is memorable as much for its dramatic scenes as for its strong characters, all of which remain etched in the mind long after the story has been read.
About the Author
William Shakespeare was born on April 26, 1564 in Warwickshire, England.The theme of Shakespeare's work tended to be human feelings such as fear, ambition, and jealousy. His most well known works such as Othello, King Lear, and Macbeth thrived on the weaknesses of human emotions. In Romeo and Juliet he would play on the eternally popular theme of the doomed lovers whose parents object to their union.Although he died in 1616, Shakespeare's enduring popularity shows no sign of weakening. His work is constantly performed with a plethora of yearly stage plays, and the numerous television adaptations and popular Hollywood films released over the years.
Praise For The Merchant of Venice…
"A nice first introduction to the play or a new way to experience a classic." — Nicola Manning, Back to Books


"I highly recommend Campfire's comics. They do what they are intended to do and do it in  a way that excites kids about classic literature."

— Chris Wilson, The Graphic Classroom (a resource for teachers and librarians)
Advertisement