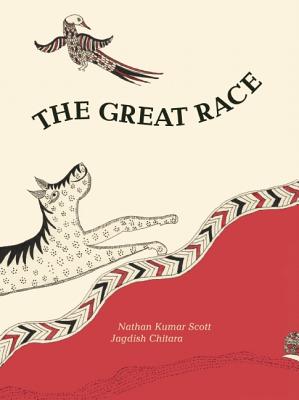 The Great Race: An Indonesian Trickster Tale (Hardcover)
An Indonesian Trickster Tale
Tara Books, 9789380340159, 32pp.
Publication Date: June 12, 2012
Description
"Though there's no claim that this art style has any relationship to the original tale, it's an apt match. The book designer adapted the work to the printed page, keeping the intense blood red and ebony black. Each double-page spread takes on an exciting life of its own. A note provides background information on the tale, and an afterword tells the story of the illustrations with photographs of the original cloths. This unusual multicultural pairing packs a powerful punch." - Kirkus Reviews

"I'm the fastest animal in the forest!" boasts Kanchil the trickster mouse deer. "And I challenge any animal to race me!" Who will step forward to accept this challenge, and can Kanchil be beaten?

Illustrated in the exquisite Mata-ni-Pachedi style of ritual textile painting from Gujarat.

The Great Race is the third story in the Kanchil series by Nathan Kumar Scott, preceded by the popular Mangoes and Bananas and The Sacred Banana Leaf.
About the Author
Nathan Kumar Scott was born and raised in India of American parents and has been bridging cultures all his life. He has been a theatre director, designer, playwright, puppeteer and storyteller, and his work has been performed across the United States as well as in Ecuador, Mexico, India, Hong Kong and Taiwan.
Advertisement